Earlier this week Rockwell released version 12 of Connected Components Workbench.
Below I'll summarize the new features as documented in the release notes:
New CCW Features:
Support for new products including the Micro870 with AC Inputs, Spectrum Controls MicroSD plug-in module (2080-SDMEMRTC-SC,) and new Electronic Overload Relay (193-E200-PCM)
Support for FactoryTalk Linx in addition to RSLinx Classic
Trending of Micro800 variables as well as PowerFlex drive parameters added
New Micro800 Features:
New Micro850 simulator added (Standard Edition simulator only runs for a short time in order to demo feature.)
Micro870 support for customizable module scan interval
New instructions including SCL (scale), COM_IO_WDOG (external comms watchdog), AFI (always false), and NOP (no operation.)
Disable/Enable Modbus TCP server
Feature Pack v11 integration, including Copy/Paste of ladder logic between CCW, Studio 5000, and RSLogix 500.
New PV800 Features:
Integrated v11 Feature Pack
Can now start applications from PC after download
Simple object animation (size and screen location)
Auto-updating tag names based on controller tag name

Enhanced features:
Data Log/Recipe features now available for Micro830, 850, and 870 (see Spectrum module above) including export and import
Functional changes:
When you open a project from an older version of CCW, the software will now automatically create a backup of the older project prior to upgrading the project.
You can now choose not to download Micro800 source code when you download your project.  Doing so speeds up building and downloading, however it also disables the ability to go online with the controller (unless the project is already open in CCW.) It also disables uploading and discovering the controller.
With the addition of several new instructions, additional reserved words have also been added in v12. Older programs using those reserved words will no longer build in v12 until the reserved words are no longer used.
Learn about other releases:
Check out our coverage of other releases of CCW below:
Find out more:
If you would like to view the Connected Components Workbench 12.0 release notes, head over to Rockwell's Product Versions webpage and search on Connected Components Workbench.
From the resulting list, under Connected Components Workbench select "Versions," and then from the versions page click on the "PDF Document" icon under version 12.00.00: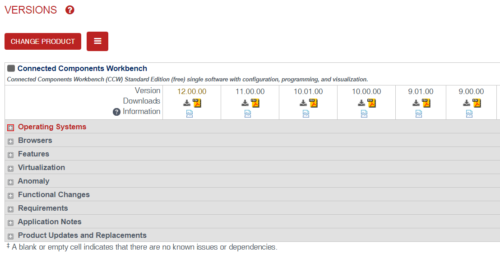 So, what do you think of the new features of Connected Components Workbench 12?
Will you jump in and install v12 right away because of the added features or hardware support?
You can share your thoughts and opinions by clicking on the "post a comment or question" link below.
Until next time, Peace ✌️ 
Shawn M Tierney
Technology Enthusiast & Content Creator
Have a question? Join my community of automation professionals and take part in the discussion! You'll also find my PLC, HMI, and SCADA courses at TheAutomationSchool.com.
Latest posts by Shawn Tierney
(see all)