The Automation Blog is now open to guest bloggers!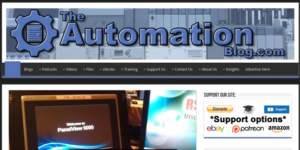 Why?
Well, by allowing "guest bloggers" to submit articles for publication on The Automation Blog, we hope to provide even more helpful information to our readers each week.
The way we see it, each guest blogger article published has the potential to introduce our audience to a wider range of products, knowledge, and expertise.
So how does it work?
First, prospective guest bloggers will start by reviewing our guest blogging guidelines HERE.
These guidelines include requirements like the blog needs to be about industrial automation, and needs to be a new unique article not previously published elsewhere.
Guest bloggers can then submit their ideas for articles to us by using this contact form.
When we receive their information, we'll check to be sure it falls within our guidelines.
If it does, we'll respond with an email address the guest blogger can use to submit their completed article in a Microsoft Word format.
From there, our editor(s) will review the submitted article and discuss any potential edits with the blogger.
And once the article is approved by our editor(s), our publisher will schedule the guest blogger's article and inform the guest blogger when it is expected to run.
So what do you think? Interested in sharing your know-how with our readers?
Lets us know by using this contact form, and as always feel free to share your thoughts with us by filling in the "post a comment or question" form at the bottom of this page.
Sincerely,
Shawn Tierney
Automation Instructor and Blogger

Enjoy the benifits of membership! Insider news, rewards, & more: Patreon.com/automation
If you enjoyed my article, you may like my courses at TheAutomationSchool.com
Have a question on this topic? Click here to scroll down to the comment link
Have a news tip? Share it with us here
Shawn began sharing automation news and know-how online in 1996 when he launched his first BBS. Then in 1999 he moved to the internet launching ShawnMichael.com, which he later renamed ShawnMTierney.com. In 2013 he moved his automation efforts to a new website, TheAutomationBlog.com, which has since become the most popular independent industrial automation blog on the web.
Latest posts by Shawn Tierney (see all)
Click HERE to scroll down to view or leave comments