---
Rockwell Automation recently released for download version 24 of it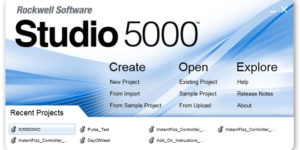 s Studio 5000 Logix Designer software, which programs its CompactLogix and ControlLogix line of Programmable Automation Controllers (PAC.)
The download weighs in at 3.49gb, and with a good high speed connection users can expect it to take just under 30 minutes. The download package includes RSLinx 3.71, as well as FactoryTalk Services Platform 2.71 and FactoryTalk Activation 3.62.11.
What's new in version 24?
Operating system support: As with version 21 and 23, v24 still supports Windows 7 and Server 2008. However, it also adds support for Windows 8, 8.1, and Server 2012
Logical Organizer: As discussed in our first look here, this additional view allows you to organize your project's code in a manner that is relevant to your application.
Program Parameters: As discussed in our first look here, program parameters replace program tags and consist of In, Out, InOut, and Public types.
Compare and Merge Tool: As discussed in our first look here, this updated tool allows you to merge various components from two different projects.
ISA 18.2 Alarm Support: The ALMA and ALMD instructions now include support for Out of service, Surpressed by Design, and Shelving.
Library Management Support: Several enhancements supporting library management include wild card support in search and replace, streamlined program delete, and support for 1000 programs per task.
---
For a full list of new and changed features, check out the official product release notes below:
And if you have any questions, comments, suggestions, or corrections please leave them with us by filling out the "post a comment or question" link below.
Sincerely,
Shawn Tierney
Automation Instructor and Blogger

Enjoy the benifits of membership! Insider news, rewards, & more: Patreon.com/automation
If you enjoyed my article, you may like my courses at TheAutomationSchool.com
Have a question on this topic? Click here to scroll down to the comment link
Have a news tip? Share it with us here
Shawn began sharing automation news and know-how online in 1996 when he launched his first BBS. Then in 1999 he moved to the internet launching ShawnMichael.com, which he later renamed ShawnMTierney.com. In 2013 he moved his automation efforts to a new website, TheAutomationBlog.com, which has since become the most popular independent industrial automation blog on the web.
Latest posts by Shawn Tierney (see all)
Click HERE to scroll down to view or leave comments
Forum Comments:
---
I cannot install studio 5000 v24, can you help me out?
I tried to install but in the end when I launh it, it appear a message box that lack of some components. Can you help me out?

Good morning truong32ct,
Are you saying the installation completes successfully, but Studio 5000 Logix Designer won't launch?
Do you get an error message, or if not what happens? Feel free to add a screen shot.
Also, What operating system are you running - like Windows 10 Pro 64 bit, Windows 7 Home 32 bit, etc?
Sincerely,
Shawn Tierney,
TheAutomationBlog.com