---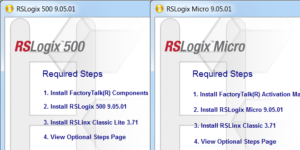 Just this last week I found out that Rockwell Automation had released version 9.05 of RSLogix 500 and RSLogix Micro.
These new versions add support for Windows 8 and 8.1 while also removing support for Windows XP.
Aside from the expanded OS support, you won't find any new features or functions in 9.05, except for the updated support of the latest FactoryTalk Activation, as well as support for the series D 1747-L542.
However, as an added bonus both downloads now include the free version of RSEmulate 500, saving users from having to find and download it separately.
And the RSLogix Micro download now comes with the excellent Connected Components Building Blocks.
While not a major release as far as features, I do have to say Windows 8 support is a very welcome addition to this legacy software as it's not always possible for those maintaining in-plant automation systems to dictate which operating system their PC's come with.
Unfortunately, the free "lite" version of RSLogix Micro Starter has not yet be updated, and is still only available for download as version 8.3 here.
Sincerely,
Shawn Tierney
Automation Instructor and Blogger

Enjoy the benifits of membership! Insider news, rewards, & more: Patreon.com/automation
If you enjoyed my article, you may like my courses at TheAutomationSchool.com
Have a question on this topic? Click here to scroll down to the comment link
Have a news tip? Share it with us here
Shawn began sharing automation news and know-how online in 1996 when he launched his first BBS. Then in 1999 he moved to the internet launching ShawnMichael.com, which he later renamed ShawnMTierney.com. In 2013 he moved his automation efforts to a new website, TheAutomationBlog.com, which has since become the most popular independent industrial automation blog on the web.
Latest posts by Shawn Tierney (see all)
Click HERE to scroll down to view or leave comments