---
"Everything you need to know to get started using PLCs!"
Today I'm proud to announce the release of my very first DVD training video, "Micro Programmable Controller Basics."
This release is the culmination of nearly a year's worth of weekends and vacation time, all for the sole purpose of producing an affordable PLC video training course.
Twenty five years in the making.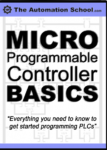 If there is one thing I've heard over and over again in my twenty five years as an Automation Specialist, it's the need for affordable PLC training.
However, most of the video products available today cost two to three hundred dollars, or more.
To address this, I decided to create my own, and launched a Kickstarter campaign back in March of 2014 to help fund it .
Since then I spent nearly an entire year's worth of weekends and vacation time to create my video course, "Micro Programmable Controller Basics".
Two DVD discs for under $50!
Update: HD Streaming now available!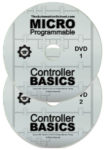 Now that my DVD is complete, for a limited time I'm offering this two disc set for under $50!
In it, I cover all the basics someone new to PLCs needs to know, including a review of the hardware and documentation, a review of the software and how to use it, and an introduction to programming with several examples.
If you'd like to find out more details about this video course, use the below link which leads to the product details page:
Until next time, Peace ✌️ 
Shawn M Tierney
Technology Enthusiast & Content Creator
Have a question? Join my community of automation professionals and take part in the discussion! You'll also find my PLC, HMI, and SCADA courses at TheAutomationSchool.com.