---
If you're having problem running Studio 5000 v24, a friend's recent experience may shed some light on it.
A couple of weeks ago I received a call from a friend who spent a frustrating day trying to get Studio 5000 version 24 to work.
My friend has been using Allen-Bradley PLC's and software for decades, and like myself he tries to stay on top of the latest products and software releases from Rockwell.
Unfortunately, this time migrating to the newest version of Studio 5000 seemed to have caused more problems then it was worth, and after one very long, frustrating day he unhappily reverted back to v21.
During his day of troubleshooting he did spend the obligatory time on the phone with Rockwell's tech support group.
However, try as they might, they had no idea why Studio 5000 version 24 was locking-up and freezing on his PC, especially since his PC runs previous versions of Studio 5000 without issue.
Time to upgrade?
The following week I received another call from my friend. This time it was to tell me he believes he has found the issue with v24.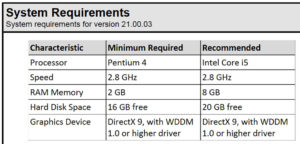 He, like I, uses VMware to run multiple operating systems on a single laptop.
And just like I did, when he created his current batch of virtual machines he set them to the defaults with the exception of Ram which he upped to 2GB.
However, while discussing the issue with a colleagues, the thought of checking the software's minimum requirements came up.
As it turns out, the jump in minimum requirements from Studio 5000 version 21 to 24 is quite steep. Surprisingly steep.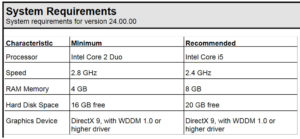 In fact, Studio 5000 version 24 has more in common with last March's  Call of Duty Ghost's PC requirements than it does with last March's Studio 5000 v21 requirements.
These new recommended requirements are so steep, they are actually higher that the specs of Rockwell newest "performance" model of its Panel PC.
To be fair…
To be fair, most forward thinking companies do upgrade their employee's laptops every few years.
With that in mind, it's likely most engineers designing new systems with Studio 5000 version 24 are going to have the minimum Core 2 Duo processor with 4GB of ram that Rockwell requires.
However, what is also likely is that those of us using VMware aren't going to have VM images setup for 4GB of Ram with multiple cores enabled, possibly making us susceptible to the random freezes and lock-ups my friend experienced.
---
I hope this article about the surprisingly high system requirements of Studio 5000 version 24 was helpful.
If you have your own experience with Studio 5000 you'd like to share please feel free tell us about them by using the "post a comment or question" link below.
Until next time, Peace ✌️ 
Shawn M Tierney
Technology Enthusiast & Content Creator
Have a question? Join my community of automation professionals and take part in the discussion! You'll also find my PLC, HMI, and SCADA courses at TheAutomationSchool.com.
If you found this content helpful, consider buying me a coffee here.
Latest posts by Shawn Tierney
(see all)
December 5 News: 50kg Robot, Ex Tablet, IOLink, Ethernet-APL, MQTT QOS, Logix/View Docs & more (N150)

- December 5, 2023

November 30 News: TIA Portal v19, Productivity Suite 4.1, Industrial Strip Light, OPC Pub/Sub & more (N149)

- November 30, 2023

MOXA's New Industrial Computers (P181)

- November 29, 2023