Update:
for the most recent article on this subject click
HERE
.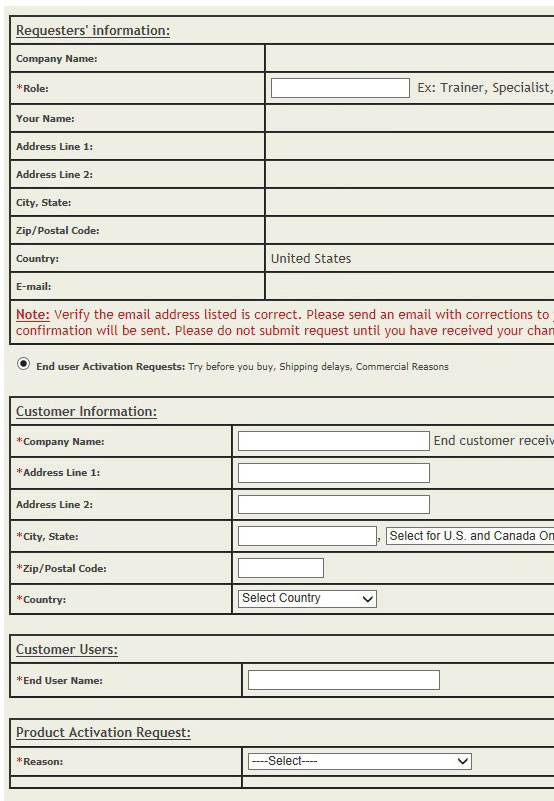 Rockwell Software Temporary Activations are designed to allow clients the ability to try Rockwell Software products prior to purchasing them.
When the program was originally launched, the local Rockwell Automation representative or Authorized distributor would start the process by filling out an online request form on the Rockwell Software extranet. If the request was approved, they would receive an email with instructions and files for creating a Master Floppy Disk. Once the disk was created, the local rep would also need to burn the software onto CD, and then deliver both items to the client.
But for the last few years a more modern approach has been implemented. The online form is still completed by the local Rockwell Automation representative or Authorized Distributor. Once the form is submitted, usually in mere minutes a "Temporary Activation Email" is received with a temporary "FactoryTalk Activation," as well as a link to download the software. This email is nearly identical to the email customers receive when they order software, and all the local representative has to do is forward the email on to the end client.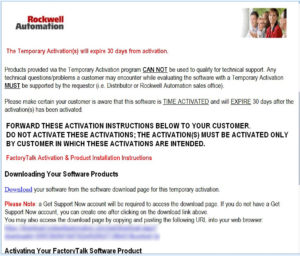 NOTE: Temporary activations typically only last for 30 days, and they do not include a tech support contract. They are designed primarily as a trial period, and typically limited to one temporary activation per "client address" per "product."
Update: Rockwell recently extended access to the "temporary activation request form" to Machine & Equipment and Partner Level OEM's, as well as Recognized and Solution Partner System Integrators. They can now request their own 48 hour temporary activations primarily for use when visiting customer sites to make modifications, or for client demonstrations.
So if there is a software package from Rockwell that you would like to test drive before purchasing, Rockwell Software temporary activations is a convenient way to do so. Just contact your local Rockwell Automation representative or Authorized Distributor with your request and you'll likely have your temporary activation email the same day.
I hope you find the above information about Rockwell's Temporary Activations helpful. If you would like to leave a comment please click on the "post a comment or question" link at the bottom of this article.
Have a great weekend!
Until next time, Peace ✌️ 
Shawn M Tierney
Technology Enthusiast & Content Creator
Have a question? Join my community of automation professionals and take part in the discussion! You'll also find my PLC, HMI, and SCADA courses at TheAutomationSchool.com.
If you found this content helpful, consider buying me a coffee here.
Latest posts by Shawn Tierney
(see all)
December 7 News: ABB, Sparkplug, Cybersecurity, Robots, Cobots, Omlox, Ethernet/IP & more (N151)

- December 7, 2023

Auvesy-MDT Octoplant: Automated Backups, Disaster Recovery, and More (P182)

- December 6, 2023