---
One of my favorite Automation Fair Technical Sessions is "What's New in Logix," and in today's article I'll highlight the slides that caught my attention as I reviewed this year's presentation.
---
First up was a slide promoting the coming release of the 5380 Compact GuardLogix:
Schedule for release sometime in Mid-2019, this unit is designed to support SIL CL3 up to PLe, and includes the same dual Ethernet ports found on the standard 5380 controller.
---
Next up was a slide about a new line of 1756 Safety IO modules :
The initial release in planned for 2019, and the line will eventually include both Analog and Digital input and output modules, rated from SIL 2 PLd to SIL 3 PLe
---
Not to be left out, this March the 5069 line also receives new Safety I/O modules, with the 5069-IB8S and 5069-OBV8S supporting PLd and PLe applications: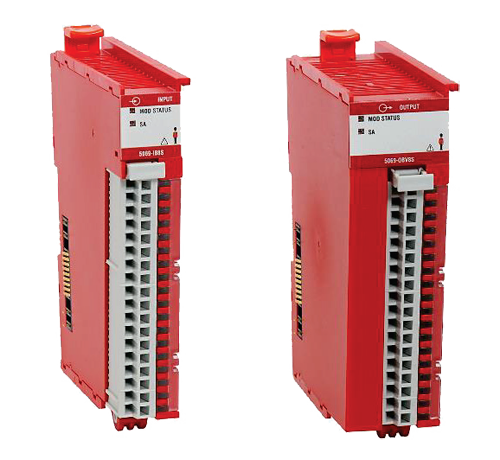 ---
With all the new products and options, Rockwell thankfully included this very helpful chat comparing CompactLogix and ControlLogix Standard and Safety controllers in the 5×70 and 5×80 families:
Note: For a full size version of this chart, get a copy of Rockwell's T13 presentation by following our instructions 

here

.
---
Also covered was the new Compact I/O Serial module, the 5069-ASCII, which currently supports generic ASCII, MODBUS RTU and ASCII in v31 of Studio 5000:
Rockwell also stated that it has plans to add the DF1 and DH-485 protocol in the future.
---
The Flex 5000 I/O (5094) line also had a spot in the presentation announcing the new SFP Ethernet adapter shown on the right side of the below image: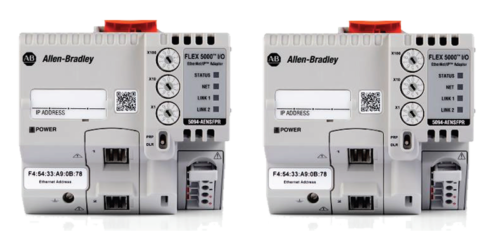 ---
And the last items in my list of highlights are the new features planned for Studio 5000 Logix Designer v32.
First we have these new Extended Data Types being added to support 64 Bit Math:
Unsigned Short Integer: USINT
Unsigned Double Integer: UDINT
Unsigned Integer: UINT
Unsigned Long Integer: ULINT
Long Real Number: LREAL
Long Integer: LINT
Next we have Tag-based Alarm enhancements including the ASO (Alarm Set Operation) instruction.
This instruction provides a way to programmatically issue a specific operation (like "Acknowledge") to all alarm conditions in a set.
And finally, for the 5×80 series of controllers we have some new optimized FBD instructions which replace existing ones:
These new instructions not only require less space and no backing tag, they also simplify diagrams by being smaller and using more intuitive "symbol-based" instruction blocks.
Sadly (as noted above,) these enhancements only work with the 5380, 5480, and 5580 Controllers.
---
Well, those our my highlights from this year's, "What's new in Logix" presentation from Automation Fair.
If you'd like to see the entire presentation, head over to the downloads page covered in

this article

, and search for presentation T13.
And if you think I left something out, and would like to share your own thoughts and comments, I invite you to do so by clicking on the "comment" link below my signature.
Until next time, Peace ✌️ 
Shawn M Tierney
Technology Enthusiast & Content Creator
Have a question? Join my community of automation professionals and take part in the discussion! You'll also find my PLC, HMI, and SCADA courses at TheAutomationSchool.com.
Latest posts by Shawn Tierney
(see all)