---
My all time favorite sessions at Rockwell Automation's TechED are the "What's New" sessions.
This year these sessions didn't disappoint, with several new products revealed in "What's New in Integrated Architecture."
Below I share my "top five" picks from this session, and I'll also include the complete presentation at the bottom of this page.
---
CompactLogix Hardware
First up, Rockwell announces a new member of the CompactLogix 5370 family of processors, the 1769-L19ER: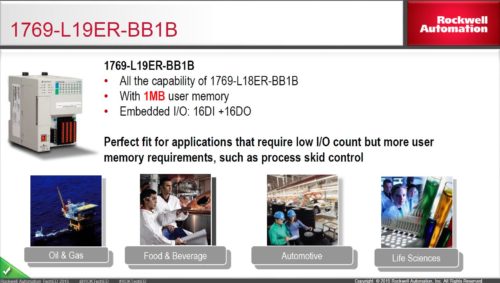 I haven't run into anyone who's maxed out an L18 yet, but apparently this has been happening since the only difference between the L18 and L19 is the later has more memory.
The presentation didn't mention when the L19 is coming out, or what version of Studio 5000 will be needed to use it, but if I had to guess I would say it will release in the 6-9 month time range and require v28.
---
Compact GuardLogix
Next we have the 5370 version of the Compact GuardLogix.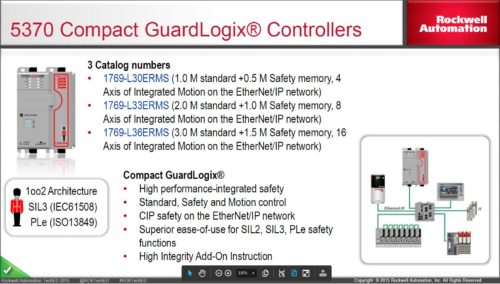 This is one product I know many are waiting for, as it's expected to greatly reduce the cost of implementing a GaurdLogix system.
There's also no target release date listed for this product either, but I would guess it's probably early to mid 2016.
---
Studio 5000, version 27 and 28
It seems like just yesterday when version 24 was released, followed shortly there after by the stealth release of version 26.
Now according to this slide, Studio 5000 v27 and v28 will also be released in 2015: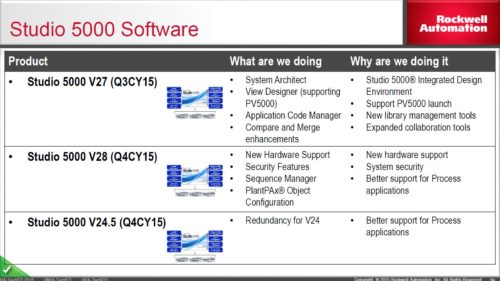 It looks like v27 is focused on support for the PanelView 5000, while v28 is focused on supporting new hardware (assuming that's the two new CompactLogix products above.)
---
ControlLogix Redundancy
Below we see updated v20.0xx redundancy firmware planned for this summer, as well as v24.5 firmware scheduled to arrive next year: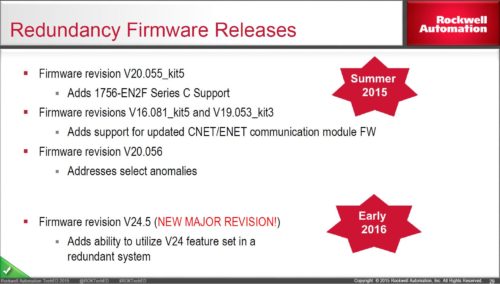 ---
Human Machine Interface Hardware
My final new product pick is the PanelView 5000: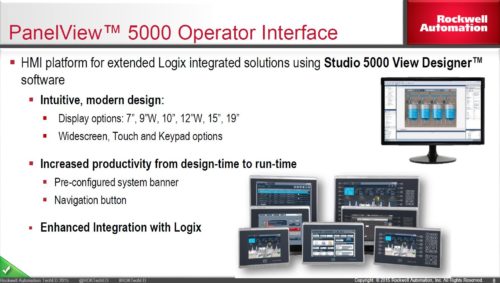 This new operator interface will program from inside Studio 5000 v27 using the new View Designer component.
From what I've heard, the first release of this new HMI will be quite limited, so you'd be advised to do your research prior to using the first release of this new PanelView.
---
Want to see what else Rockwell showcased in "What's New in Integrated Architecture?" If you do, I've embedded the entire presentation below my signature.
And as always, if you have any comments, questions, or suggestions, you can leave them with us by filling out the "post a comment or question" link below.
Until next time, Peace ✌️ 
Shawn M Tierney
Technology Enthusiast & Content Creator
Have a question? Join my community of automation professionals and take part in the discussion! You'll also find my PLC, HMI, and SCADA courses at TheAutomationSchool.com.
If you found this content helpful, consider buying me a coffee here.
Latest posts by Shawn Tierney
(see all)
December 7 News: ABB, Sparkplug, Cybersecurity, Robots, Cobots, Omlox, Ethernet/IP & more (N151)

- December 7, 2023

Auvesy-MDT Octoplant: Automated Backups, Disaster Recovery, and More (P182)

- December 6, 2023
---
Update 05/15/23: Unfortunately the presentation is no longer available
---