---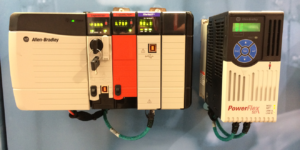 I was able to get my first look at Rockwell's new PowerFlex 527 VFD at Automation Fair 2014, and in today's article I share the seven new facts I learned:
1) Logix Only
This drive is designed strictly to be a remote Ethernet I/O rack to a ControlLogix or CompactLogix system, configured using Studio 5000 Logix Designer.
2) No HIM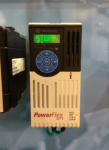 As if to drive home the first point, this VFD has no "Human Interface Module" controls. No Start, Stop, Jog, or Speed Pot like most other VFD's have.
In fact, the only setting you can change from the front of this drive is the IP Address.
3) No USB Port
Also driving home the first point is the fact that the 527's Control Module has no USB port, so connecting directly with your PC is not possible.
This makes the 527 more like a traditional rack of I/O, and should prevent mismatches between the drive configuration and the Logix controller's.

---
---
4) Embedded two port Ethernet switch
Like many new Rockwell products, the 527 sports an integrated dual-port DLR enabled Ethernet switch. This allows it to be used in either daisy chain or ring configurations.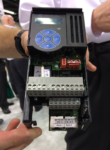 5) Integrated Safety
When used with a GuardLogix processor, the 527 supports Integrated Safety over Ethernet/IP.
6) Hardwired Safe-Torque-Off
When used with a standard Logix processor, the 527 also has built-in hardwired Safe Torque-off support.
7) Common 520 Power Structure
The 527 shares a common power structure with the 523 and 525. According the representative I talked to at the show, the 527 control module can be used to replace an existing 523 or 525 control module (or vice versa.)
---
Well, those are the top seven facts I learned about the PowerFlex 527 at Automation Fair 2014. For more information, check out Rockwell's product profile on the 527 which I've linked to below:
http://literature.rockwellautomation.com/idc/groups/literature/documents/pp/527-pp001_-en-p.pdf
If you have any comments, questions, or corrections, please don't hesitate to share them with us by filling out the "post a comment or question" link below.
Sincerely,
Shawn Tierney
Automation Instructor and Blogger

Enjoy the benifits of membership! Insider news, rewards, & more: Patreon.com/automation
If you enjoyed my article, you may like my courses at TheAutomationSchool.com
Have a question on this topic? Click here to scroll down to the comment link
Have a news tip? Share it with us here
Shawn began sharing automation news and know-how online in 1996 when he launched his first BBS. Then in 1999 he moved to the internet launching ShawnMichael.com, which he later renamed ShawnMTierney.com. In 2013 he moved his automation efforts to a new website, TheAutomationBlog.com, which has since become the most popular independent industrial automation blog on the web.
Latest posts by Shawn Tierney (see all)
Click HERE to scroll down to view or leave comments