---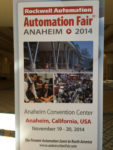 One Week To Go…
With just seven days to go before I head off to Rockwell's annual Automation Fair, these are the seven products I'm most looking forward to finding out more about:
Seven Products I Hope to learn more about at Automation Fair 2014:
1) I/O Link
The directory guide doesn't reveal much about what this is, but on the surface it seems to be a new sensor network with ADR support (On-Site Directory pages 22 and 33)
2) PanelView 800
With the PanelView Component beginning to show it's age, it will be interesting to hear about what's new with the premiere of the PanelView 800 (On-Site Directory page 26)
3) Dynamix 1444
A newly designed, state of the art refresh to Rockwell's condition monitoring line? That's what I'm guessing the new Dynamix 1444 is (On-Site Directory page 30)
4) PowerFlex 527
The new Allen-Bradley 520 series of VFD's has been pretty popular, and according to the directory this new VFD will be making it's debut appearance at this years show (On-Site Directory pages 17, 29, and 36.)
5) New PlantPAx virtual images
Using factory certified virtual images can save time and avoid misconfiguration headaches, so I'm very interested in what new options they have to offer (On-Site Directory page 28)
6) New Mobile HMI
Not sure what this refers to? Is it the ViewPoint package we all know, or some new software or hardware being announced? (On-Site Directory page 35)
7) Surprises?
The final product(s) in my list are those Rockwell might possibly be launching at the show itself.
Could it be a new Safety PLC, or new I/O modules? Will "View Designer" make a return, or will the features of Logic Designer v25 be announced? Or maybe we'll even see a HTML 5 version of Viewpoint on display?
It's hard to say now if any of these or something else will be announced, but we'll know for sure in just a week's time.
Note: To get a copy of the On-Site Directory mentioned above, use he below link to Rockwell's PDF:
---
And if you have any comments, questions, corrections, or suggestions please feel free to leave them with us by using the "post a comment or question" link below.
Until next time, Peace ✌️ 
Shawn M Tierney
Technology Enthusiast & Content Creator
Have a question? Join my community of automation professionals and take part in the discussion! You'll also find my PLC, HMI, and SCADA courses at TheAutomationSchool.com.
If you found this content helpful, consider buying me a coffee here.