Automation Fair At Home 2020 is well underway with dozens of different sessions already available on demand.
In today's article I share the sessions I took which I think will most appeal to our readers here at The Automation Blog.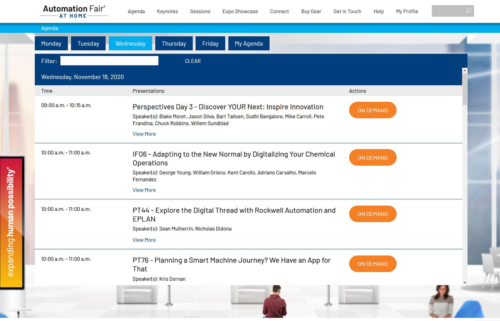 Day 1:
Perspectives Day 1 – Imagine YOUR Next with Rockwell Automation
If you're looking for a high level presentation about Rockwell Automation's vision for the future, this would be it.
You won't find any specific product news in this presentation, but it does a good job of giving viewers an overall view of Rockwell's focus.
PRPT01 – Overview of the New PlantPAx 5.0 System: What's New and Next?
This presentation starts with a detailed recap of what PlantPAx is, before getting into the details of what new.
This second part of the presentation is what I found most interesting, as well as the cached Q&A which I highly recommend reading while watching the presentation.
Day 2:
Perspectives Day 2 – Define OUR Next Together Speaker(s): Dean Kamen
While several other speakers talked after Dean Kamen, he was definitely the part of the presentation you want to see.
Most of this talk was about Dean's company ARMi which is trying to revolutionize the medical industry by making it practical to manufacture human tissues.
PRKN01 – PlantPAx Insights and Observations with David Rapini
This interview about PlantPAx was a nice edition to the previously mentioned PRPT01, and definitely worth watching for anyone looking to deploy a PlantPAx 5.0 system in the coming year.
PT41 – Single Pair Ethernet Applications and Implementation
Can Ethernet replace legacy I/O Networks? Well, the people working on the Single Pair Ethernet are better that it can, and those backing this initiative include all the major vendors include Rockwell and Siemens.
With a data rate of 10mbs, a distance rating of up to 1000 Meters, I expect in mid to late 2021 we'll start seeing new products supporting 10SPE/10BASE-T1L (IEEE P802.3cg, ISO T1-A-1000, TIA SP1-1.)
Day 3, Day 4, Day 5
Hopefully I'll get back to these within the six month window!
---
So those are my picks, now it's your turn to share which sessions you liked in the comments below!
Until next time, Peace ✌️ 
Shawn M Tierney
Technology Enthusiast & Content Creator
Have a question? Join my community of automation professionals and take part in the discussion! You'll also find my PLC, HMI, and SCADA courses at TheAutomationSchool.com.