---
Robotics is a field of study which is experiencing constant progress. People are wondering how they can improve or make a groundbreaking discovery in robotics. That is why they are developing absolutely everything they can, with robots involved. With that in mind, a group of developers decided to create a special type of foosball table – a robotic foosball table to see if humans are better at foosball than robots.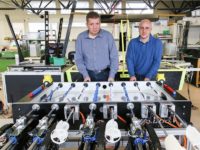 That idea – to see which one was better – was born on a prestigious college, Swiss École Polytechnique fédérale de Lausanne – EPFL. It is actually a part of the Bachelor's and Master's research platform, and the leader of this interesting science project is Christophe Salzmann.
The foosball table consists of two teams, Blue team and White team. The White team is controlled by developers – humans, and the Blue team is the robotic part of a foosball table. The teams are playing on a transparent foosball field, which is pretty cool, but it is much more than just a see-through field. The camera located beneath the field is tracking the ball and moving the rods with the players. The camera is 300 fps, which means it won't miss a thing on the field.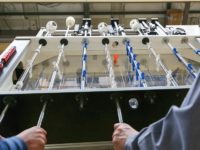 There are two important robots on the table – for the rods and for the players. Each robot has millimeter precision, so the players kick the ball every time, and have an impressive reaction time, which is better than humans.
Developers are admitting that this is just a basic prototype because the robot can win only by relying on speed and strength. They believe this should be enough to beat an average skilled foosball player, but more advanced or even professional players are too much to handle for this robotic foosball table.
The developer's first goal was to make a robotic foosball table that can actually play foosball. Now that the goal has been achieved, they decided to go to the next level and upgrade the Blue team with special lasers. Those lasers will detect the position of the other team (humans) handles and with that, figure out the next move.  The Blue team will then be able to develop strategies, steal the ball, and beat the best foosball players in the world. The only real opponent for the robotic team in that scenario should be another robotic team because humans will lose against the robots in yet another game.
Mark Cop
FoosballZone.com


---
Author's profile:
Mark is a Foosball player who has been to many different cities due to Foosball. He made a blog about Foosball where he composes all that you have to think about Foosball. In this way, on the off chance that you need to enhance your Foosball experience and skills, look at his blog called the Foosball Zone
---
Editors Footnote:
Having spent a career in industrial automation, I definitely enjoy reading stories of automation used outside that industry.
Whether it's the above story about a servo and sensor welding computer beating humans at Foosball, or a PLC controlling a model train set, or even home robotic kits that teach school age children about science, technology, engineering, and math (STEM.)
That's why we've decided to open up The Automation Blog not only to guest blogs from all major industrial automation brands (like Siemens, GE, Modicon, Mitsubishi, Omron, etc, etc.), but also to Educational and Hobby enthusiasts like Mark from FoosballZone.com.
So, if you've automated your home, model railroad, holiday display, or have a story to tell about one of the many STEM products or programs, we'd love to publish your original articles here on The Automation Blog.
To find out more, contact us by using this form here.
Until next time, Peace ✌️ 
Shawn M Tierney
Technology Enthusiast & Content Creator
Have a question? Join my community of automation professionals and take part in the discussion! You'll also find my PLC, HMI, and SCADA courses at TheAutomationSchool.com.