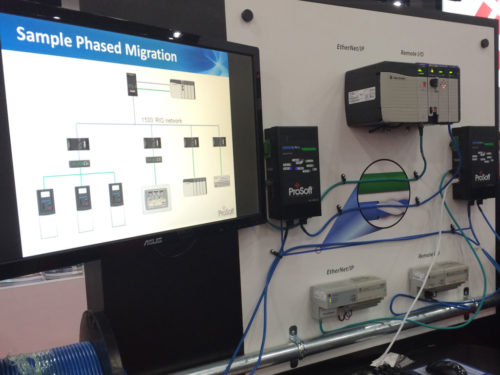 At this year's Automation Fair, Prosoft showed a new product that allows Ethernet communications to be transmitted over "blue hose," or more specifically, "Belden 9463."
The targeted market for this product is legacy migrations of PLC-5 and SLC-500 systems. These older systems often relied on Data Highway Plus (DH+) for peer to peer communications, and RIO for remote I/O communications.
DH+ and RIO both use Belden 9463, a shielded twisted pair cable that allowed for networks up to 10,000 cable feet. And Belden 9463, with it's blue outer jacket, is affectionately known in plants around the world as "blue hose."
The Prosoft system (pictured below) relies on two main components: a master device and at least one slave device. Additional slave devices can be added as needed up to 32 devices. However, each device must be within 1500 cable feet of the previous one. This means a network of 10,000 feet would require a minimum of one master and six slaves.
Each device contains three Ethernet ports for use with remote Ethernet devices. In testing, Prosoft found they could easily accommodate remote Ethernet/IP I/O with an RPI as low as 3ms. For most applications that update rate will be more than adequate.
The Prosoft Ethernet over Blue Hose system, consisting of at lease one MCE-BHM-AC and one MCE-BHS-AC, should be available early next year. The target price for one master and one slave is just under $3,000.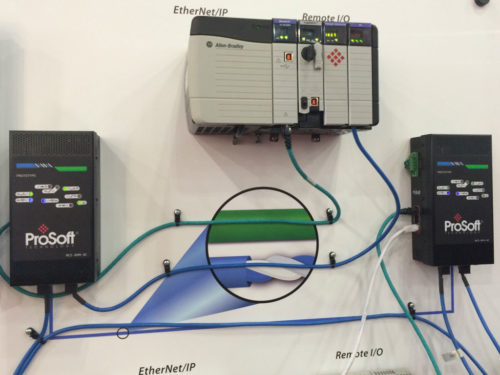 If you have any questions or comments please click on the "post a comment or question" link below,
Sincerely,
Shawn Tierney
Automation Instructor and Blogger

Enjoy the benifits of membership! Insider news, rewards, & more: Patreon.com/automation
If you enjoyed my article, you may like my courses at TheAutomationSchool.com
Have a question on this topic? Click here to scroll down to the comment link
Have a news tip? Share it with us here
Shawn began sharing automation news and know-how online in 1996 when he launched his first BBS. Then in 1999 he moved to the internet launching ShawnMichael.com, which he later renamed ShawnMTierney.com. In 2013 he moved his automation efforts to a new website, TheAutomationBlog.com, which has since become the most popular independent industrial automation blog on the web.
Latest posts by Shawn Tierney (see all)
Click HERE to scroll down to view or leave comments