---
Last week, as I was looking through the public documents available from Rockwell Automation's TechED, I came across something very unexpected.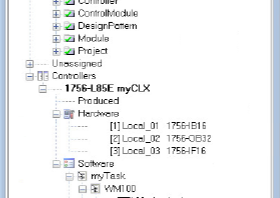 UPDATE: The 1756-L85E is now officially announced – find out more details HERE.
On slide four of the "SY15 – Application Code Manager" presentation, there was a 1756-L85E controller listed in the sample project.
However, today there is only a 1756-L65 and 1756-L75 available, and neither of those models have the trailing "E" in their part numbers.
I guessed that this indicated Rockwell was nearing the release of it's next generation of ControlLogix processors, the 5580 line.
And based on the part numbering scheme used for the CompactLogix processors, I assumed the trailing "E" indicated this processor would have a built-in Ethernet port as well.
Curious to see if I could corroborate my hunches, I navigated my browser over to Rockwell Automation's website.
Not finding any new announcements or literature related to the L85E, I turned to searching the Rockwell website.
This resulted in two hits, both links to the "declaration of conformity" documents listed below:
Reading these documents it became very clear that not only was the 1756-L85E listed alongside the L6 and L7 processors, but it was also described as having a built-in 1gb Ethernet port as well:

Note: The above appears to indicate a 64mb L76 is also on the way…
If you know anything more about the new 1756-L8xE line of processors I'd love to hear from you!
If your information is not covered by a confidentially or non-disclosure agreement, please feel free to click on the "post a comment or question" link below to share what you know.
You can also contact me in a more discrete manner using the "contact" link in the top menu of this page.
Until next time, Peace ✌️ 
Shawn M Tierney
Technology Enthusiast & Content Creator
Have a question? Join my community of automation professionals and take part in the discussion! You'll also find my PLC, HMI, and SCADA courses at TheAutomationSchool.com.
Latest posts by Shawn Tierney
(see all)