---
Rockwell Automation just announced its new line of ControlLogix 5580 Controllers.
Timed to coincide with Automation Fair next week, Rockwell states its new controllers provide faster performance, reduced complexity, and enhanced security.
Rockwell states this new line of controllers provides up to 45 percent more capacity, including a 1-gigabyte Ethernet port supporting up to 300 nodes, as well as up to 256 axes of motion.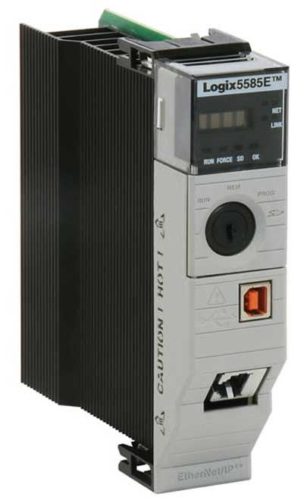 In additional to extra capacity, Rockwell's website claims a 5 to 20 times increase in performance over the existing L7 (5570) series.
On the security side, these new processors support digitally signed and encrypted firmware, change detection, and audit logging.
According to Rockwell's documents, initially two 5580 processors will be available: 1756-L83E and 1756-L85E.
These processors appear to only differ in memory (10mb versus 40mb) and max supported Ethernet nodes (100 vs 300.)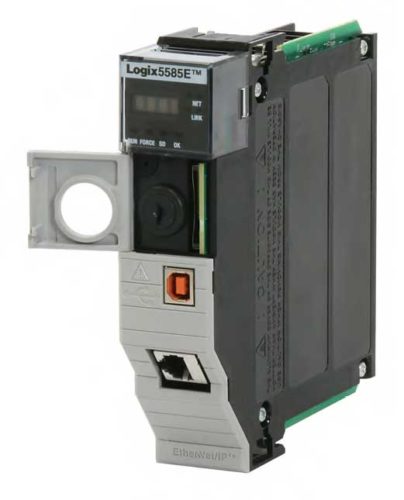 Both processors also come with a 2GB secure digital memory card, and require version 28 of Studio 5000 Logix Designer.
For more information about this new line of ControlLogix processors visit Rockwell's new ControlLogix 5580 webpage, or check out Rockwell's updated literature below:
---
So, what do you think? Will you be spec'ing in an  L83E or L85E on your next project?
Let us know what you think by using the "post a comment or question" link below.
Sincerely,
Shawn Tierney
Automation Instructor and Blogger

If you enjoyed my article, you may like my courses at TheAutomationSchool.com
Eliminate Ads and get Free Downloads by becoming a Patron here
Have a news tip? Share it with us here
Shawn began sharing automation news and know-how online in 1996 when he launched his first BBS. Then in 1999 he moved to the internet launching ShawnMichael.com, which he later renamed ShawnMTierney.com. In 2013 he moved his automation efforts to a new website, TheAutomationBlog.com, which has since become the most popular independent industrial automation blog on the web.
Latest posts by Shawn Tierney (see all)
Click HERE to scroll down to view or leave comments