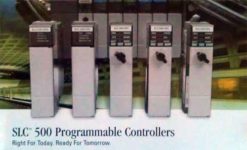 Getting hard physical copies of manuals and documentation for Allen-Bradley and Rockwell Software products:
Click here to read part one of this article
Yesterday we discussed how to get electronic copies of Allen-Bradley (A-B) and Rockwell Software (RS) manuals and documentation. But what happens if you're looking to get a physical copy of a manual? For this you'll need to contact either your local Rockwell Automation office or your local RA authorized distributor.
Both RA offices and their distributors have access to a literature ordering system which allows them to order a limited number of complimentary printed copies of the most popular manuals. Unfortunately not every manual is available, and occasionally certain manuals become unavailable as they are being updated. But the ability to get free physical copies of reference manuals, like the programming instruction reference and user's manuals is a much appreciated service Rockwell Automation still provides its customers.
Major types of documentation available for Allen-Bradley and Rockwell Software products:
To round out this topic, I'll list below the major types of documentation available for most RA products:
Brochure: Typically a glossy full color flyer about the product with pictures and highlights about the products features.
Product Profile: Usually shorter and more abridged version of a brochure, often times only on page.
Catalog: In years past all major RA products segments had their own catalog, but these days they are typically reserved for industrial components.
Selection Guide / System Overview: These documents replace the classic catalog and detail all the products and accessories for a particular product family. The selection guide is typically the document you'll need to pick out components when building a system bill of materials.
Installation Instructions / Data: These small documents come in most hardware boxes and typically cover how to mount and wire the device.
Technical / Product Data: In the past these we short versions of manuals which also contained much of the information found in the installation instructions. More recently they have become collections of technical details of the product including certifications and specifications.
Getting Started Guides: These are typically short documents which come in some software packages and cover installation basics, but longer more in-depth versions on various products are also available.
Quick Starts: Similar to Getting Stated Guides, quick start guides usually have step by step instructions on how to implement a product.
User's Manual: These are often the one document you need to implement a product. Occasionally, important information is left out of the users manuals and can only be found in either the Installation Instructions, Technical Data, or online Knowledge Base.
Reference Manual: In-depth manuals popular in the Programmable Controller category detailing programming instruction sets.
Programming Manual: These documents exist for the older products and compliment the Hardware Manual for the same product. They covered how to connect to and program the product, typically minus details on the instruction set.
Hardware / Installation and Operation Manual: Another document for older products, they complimented the Programming Manual for the same product. They covered how to install sand troubleshoot the hardware.
Click here to read part one of this article
I hope this information about how to obtain a physical hard copy of documentation for Allen-Bradley and Rockwell Software was helpful. If you're someone who prefers to have certain manuals in "physical" form, or have a "go to" manual you use on a regular basis, please consider sharing it with us using the "post a comment or question" link below.
Until next time, Peace ✌️ 
Shawn M Tierney
Technology Enthusiast & Content Creator
Have a question? Join my community of automation professionals and take part in the discussion! You'll also find my PLC, HMI, and SCADA courses at TheAutomationSchool.com.
Latest posts by Shawn Tierney
(see all)