When using new products from Allen-Bradley or Rockwell Software, you'll likely need to refer to the product documentation and manuals for product details. And if you still have the box the product came in, you'll often find an installation manual or guide inside.
While these short documents do contain helpful information on how to wire or install the product, they typically don't contain enough information on their own to allow new users to successfully implement the product. And often times these "in the box" documents are discarded with the original packaging long before they're actually needed.
Note: You can watch a video on using Rockwell's Literature Library in our companion video blog HERE.
Update 10/31/2017: Over the years Rockwell has dramatically changed the look of their Literature Library, however much of the information in this article is still valid.
Getting Electronic Manuals and Documentation for Allen-Bradley and Rockwell Software Products:
The good news is you can find electronic copies of most all Allen-Bradley and Rockwell Software manuals and technical documents on Rockwell Automation's "Literature Library" website shown below: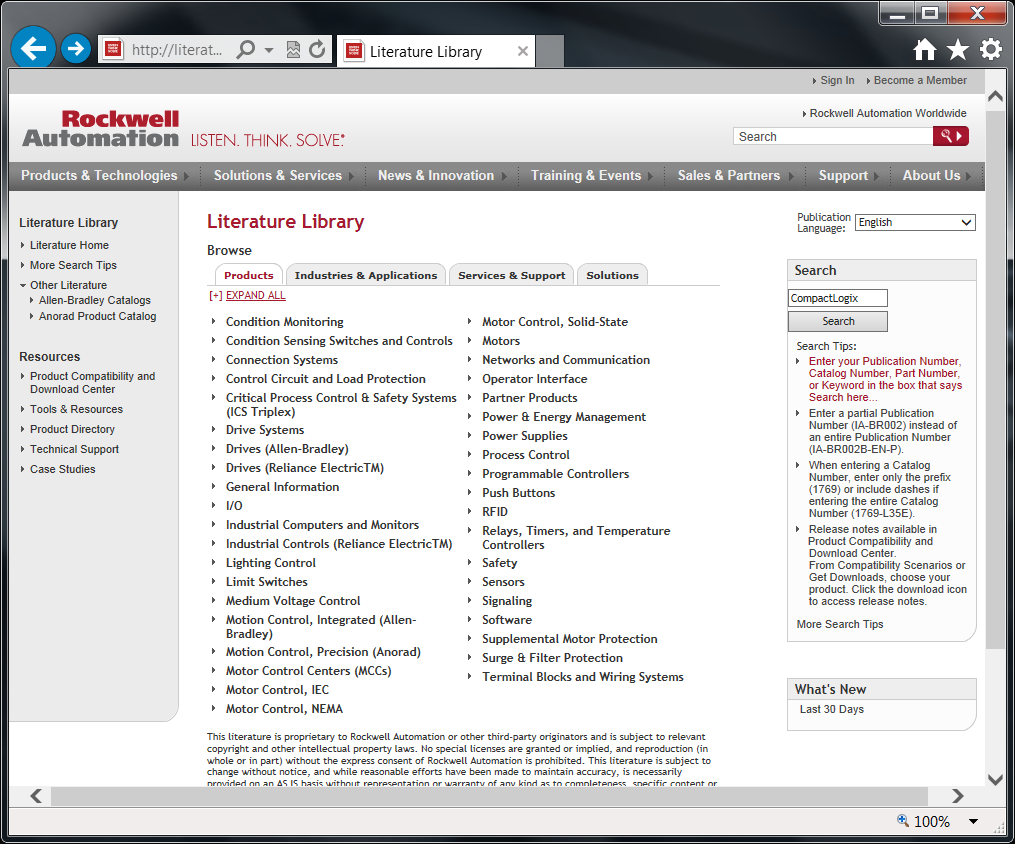 To access this website you can use the short URL, AB.com/literature, which will redirect you to the new longer URL, http://literature.rockwellautomation.com
Searching the literature library for Allen-Bradley and Rockwell Software manuals and documentation:
There are two main ways in which you can use RA's Literature Library to find the documents you need. First, you can use the Products tab to browse the product categories until you find the product you're interested in. Just select the product category, and sub-category if available, and you'll be taken to a listing of all available electronic publications for that category.
For example, below is the listing you'll be presented with if you selected the Programmable Controls category, and then selected the MicroLogix 1100 sub-category: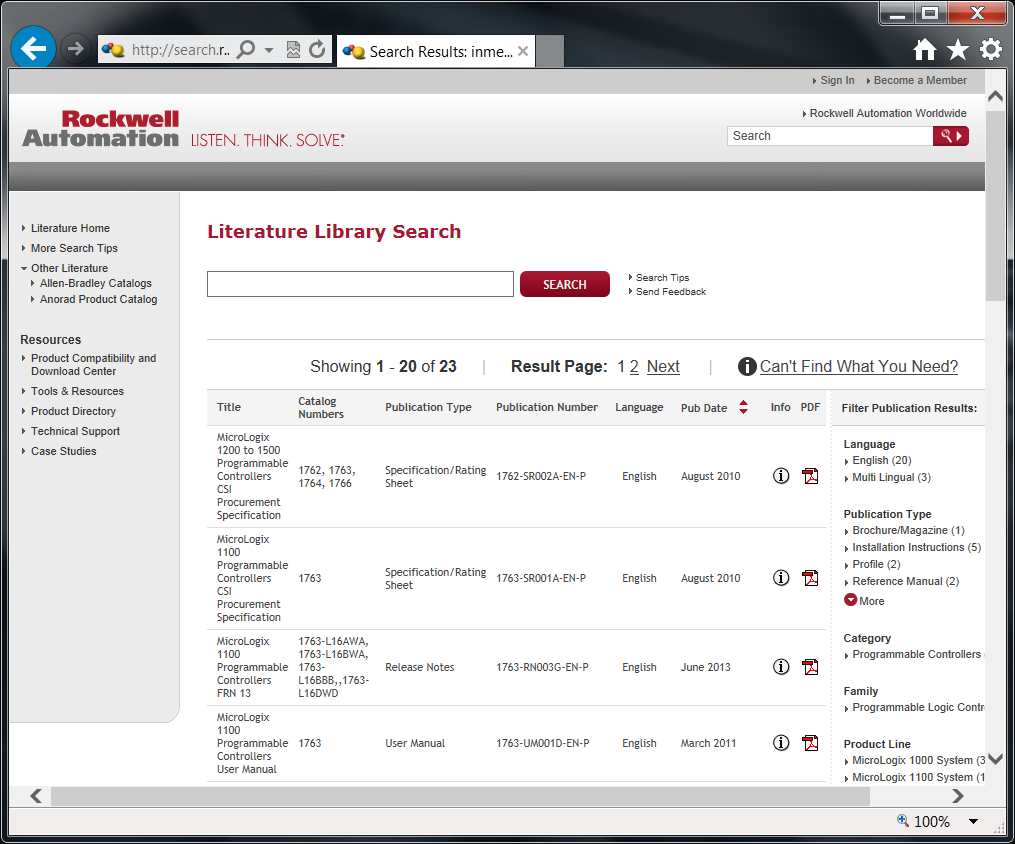 The other way to find documents is to use the search field on the right side of the page. Just enter in a Keyword, Product Description, Catalog Number, or Publication Number and press search, and the site will return a list of results based on the information you entered.
Below are the results I received when I searched on "CompactLogix:"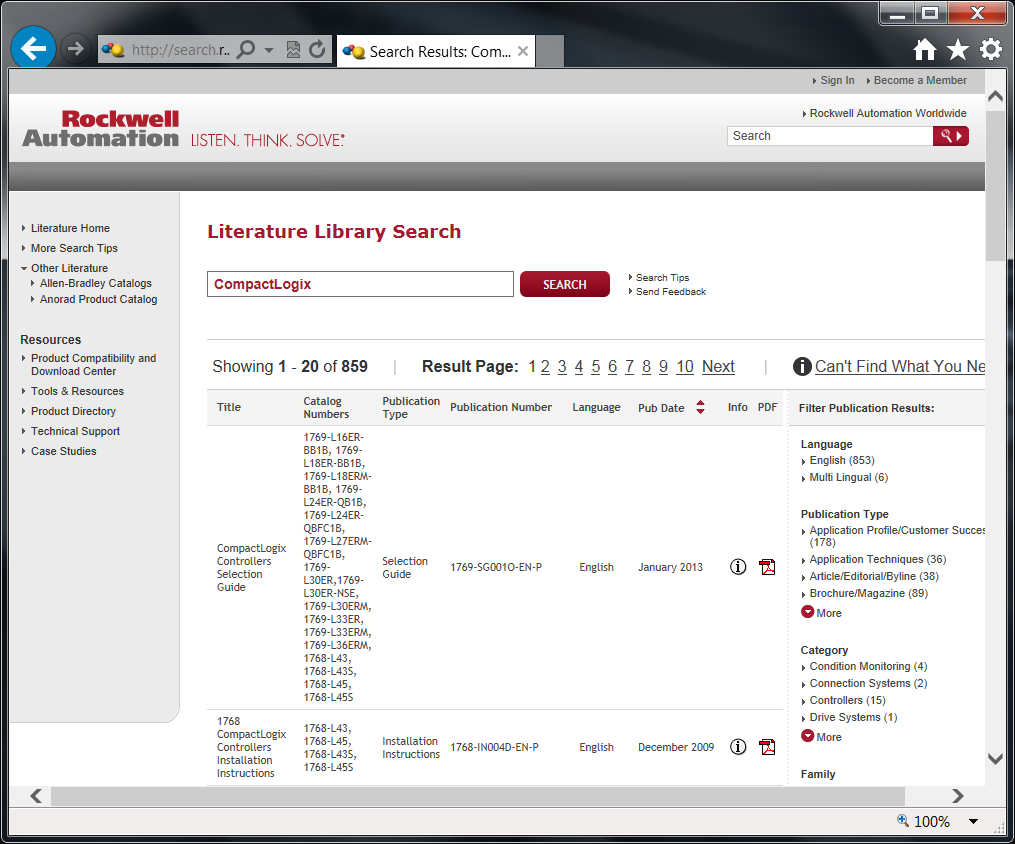 Downloading manuals and documentation for Allen-Bradley and Rockwell Software:
Once you find the publication you're interested in, you could just click on the PDF image and view the document in your browser, but I wouldn't recommend that as it often takes very long to load the document inside your web browser. Instead, right click on the PDF symbol and (in Internet Explorer) chose "Save Target As" to save the document to a convenient location on your computer.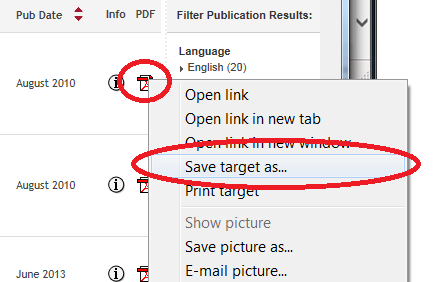 Note: If you're using a different web browser, the right click menu will be slightly different. For instance, in FireFox the right click menu item you would chose would be "Save Link As."
By convenient, I mean someplace you can remember and get to quickly. I can't tell you how many times I've sat around while a client spent much more time looking for a document he had just downloaded than it took to download the document in the first place. As for me, I typically choose a new folder on my desktop for easy and instant access to the document. Then later, if I don't want to file it in my document storage folder, I just drop it into the recycle bin.
Hopefully the above information on obtaining electronic copies of Allen-Bradley and Rockwell Software manuals was helpful. Tomorrow I'll discuss how to get hard physical copies of these manuals, as well as discuss the different types of documentation available.
In the meantime, if you have an A-B or RS document you use on a regular basis please consider sharing it with us using the "post a comment or question" link below.
Until next time, Peace ✌️ 
Shawn M Tierney
Technology Enthusiast & Content Creator
Have a question? Join my community of automation professionals and take part in the discussion! You'll also find my PLC, HMI, and SCADA courses at TheAutomationSchool.com.
Latest posts by Shawn Tierney
(see all)