Late last month Rockwell released version 10 of FactoryTalk View Site Edition, and in tomorrow's article I'll take a look at it's new feature.
But today I want to go back and take a look at what was new in version 9 since I didn't have access to it when it was released last year:
New Features:
New trend object, Trend Pro with ad-hoc, drag and drop trending. Supports ViewSE Datalog and FTHistorian Data
Improved recipe management added to RecipePro+ allowing all functions during runtime without a View Studio license
New RecipePro+ commands, including RecipeProEdit and RecipeProDownload
New Hyperlink animation available for use on most objects supporting "Touch" animation
New Alarms and Event functions, including: AE_DisabledCount(), AE_InAlmShelvedCount(), AE_InAlmSuppressedCount(),
AE_NormalShelvedCount(), and AE_NormalSuppressedCount()
Logix Designer tag extended properties support, including .@Min, .@Max, .@Description, .@EngineeringUnit, .@State0, and .@State1 (format = TagName.@ExtendedProperty)
Data communication inhibit feature to inhibit shortcut communications to reduce network load and system load time when shortcut targets are disconnected
Enhancements:
Streamlined installation
New operating system support for Windows 10 Enterprise and Professional
Dynamic decimal places
Printing screen to PDF using ScreenPrint or PrintDisplay command
Screen statistics including total referenced tags and the total used expressions
Security functions CurrentUserHasCode, CurrentUserHasGroup, and CurrentComputerHasGroup enhanced to support string tags and tag placeholders
Corrected Anomalies:
FactoryTalk View File Viewer Utility "convert datalog to .csv file" feature now working
FactoryTalk View SE client screens no longer hang for up to 40 seconds loading some graphic displays
Records can now be purged from the database successfully
Pop-ups can now appear on a second monitor in a two horizontal monitor system
Trends now display data correctly with daylight saving enabled
Sub-menus of PlantPAX PF755 faceplate now display correctly
Replication no longer fails due to startup of SQL Express
Parameters as trend pens for historian data now display correctly
FTView installation no longer removes the Arial Bold font from the operating
system
---
Find out more about ViewSE 9.0
If you would like to view the FactoryTalk View Site Edition 9.0 release notes, head over to Rockwell's Product Versions webpage and search on and then select FactoryTalk View.
Once all the versions are listed, click on the document icon as shown below: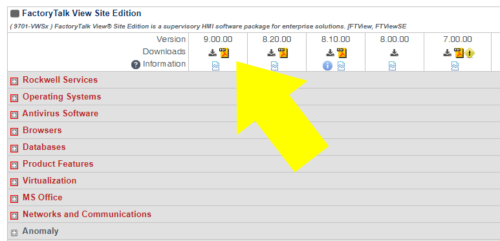 ---
If you'd like to listen to a discussion of the above, check out Episode 40 of The Automation Podcast below:
---
So, what did you think of the new features in ViewSE 9.0?
Did you migrate to it last year, or did you stay with 8.2?
You can share your thoughts and opinions by clicking on the "post a comment or question" link below.
Until next time, Peace ✌️ 
Shawn M Tierney
Technology Enthusiast & Content Creator
Have a question? Join my community of automation professionals and take part in the discussion! You'll also find my PLC, HMI, and SCADA courses at TheAutomationSchool.com.
If you found this content helpful, consider buying me a coffee here.