---
Late last week Rockwell Automation released version 8.1 of their FactoryTalk ViewPoint software.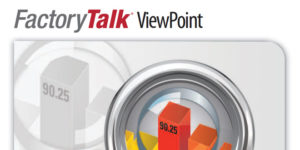 If you're not familiar with ViewPoint, it's an add-on to FactoryTalk View software which publishes graphic displays as interactive webpages.
This latest version is said to work with Internet Explorer 11.0, Chrome 39+, Chrome on Android 4.4, and Safari on IOS 8.
While it's nice to see official support for mobile browsers, it's curios Rockwell didn't test Firefox on pc?
New features in ViewPoint 8.1
The biggest news is that FactoryTalk ViewPoint no longer publishes graphic displays as Microsoft Silverlight webpages.
While I never had an issue with Silverlight myself, like Adobe Flash it was not supported on most Tablets and Smart phones, forcing ViewPoint clients to use a PC.
So after several months of redesign, with the release of version 8.1 ViewPoint now publishes graphic displays as HTML 5 webpages instead of Silverlight webpages
And since most mobile devices support HTML 5, you'll now be able to interact with your ViewPoint system using your favorite smart phone or tablet.
Rockwell also states that most all of the objects published using FactoryTalk ViewPoint v8.1 still look like their version 8.0 counterparts, and will behave the same unless otherwise noted.
New in ViewPoint 8.1 for View SE
In addition to HTML 5 support, View SE users also get what most would call a "responsive" client view.
This means that ViewPoint will automatically adjust to your devices screen size and orientation like a modern website.
To access the mobile version of ViewPoint in a View SE system, just add a trailing /m after the standard viewpoint url as shown below:
http://name_or_ip_address/FTVP/m
For more information
To find out more about Rockwell's ViewPoint 8.1 release, head over to Rockwell's software versions page HERE and search on ViewPoint.
After selecting Viewpoint, click on the small PDF icon shown below and select "Custom Release Notes"


---
So, what do you think of the new features in ViewPoint 8.1? Have you been waiting for the HTML 5 and Mobile Device support?
Share your thoughts and opinions using the "post a comment or question" link below.
Until next time, Peace ✌️ 
Shawn M Tierney
Technology Enthusiast & Content Creator
Have a question? Join my community of automation professionals and take part in the discussion! You'll also find my PLC, HMI, and SCADA courses at TheAutomationSchool.com.
Latest posts by Shawn Tierney
(see all)