---
Late last month Rockwell released version 10.0 FactoryTalk View Site Edition, and below I'll summarize its new features:
New Features:
TrendPro support for Alarms and Events traces
RecipePro+ integration with FactoryTalk Security
RecipePro+ List control for downloading and uploading recipes
Multi-monitor support (up to six,) and /M Display command parameter to specify monitor
Redundancy now copies HMI project files from the primary server to the secondary server after redundancy is setup
Replication between active and standby servers now supported when active server is the secondary server, and without the need to restart server
Replication now automatically saves online project edits to both active and standby servers
New functions: PrimaryServerStatus(), SecondaryServerStatus()
New switchover command to switch the active server in a redundant server pair
Redundancy expanded to support (1) 80 Client sessions simultaneously connected, (2) 50 FactoryTalk ViewPoint web client sessions, and (3) 1,000,000 tags across 10 redundant HMI servers
New commands to allow users to interact with the active alarm events from buttons outside of Alarm and Event summary
New AE_Remark command allows users to log a user-defined message into the Alarm and Event history database
Embedded Web Browser control provides capability to display web pages from an HMI application
HTTPS Protocol product policy support for secure communication when enabled
Enhanced features
Added support for pass-through login from ThinManager to launch FactoryTalk View SE clients
Redesigned workflow of FactoryTalk View SE Client Wizard
Improved built-in on-screen keyboard layout with custom text support
Support added for deleting and removing multiple components at a time
Property Panel and Object Explorer now automatically doc on right side of the main window
Added support for dynamically specified local message files, and writing triggered message to string tags
New shortcut to create Signature Button object added to toolbar and menu
New support for $ symbol in the command syntax (must use a backslash \ when tag name includes $, so use \$tag3 for $tag3 in commands
New display statistics functions including (1) Number of security functions used, (2) Number of referenced images, (3) Number of imported images
Installation Wizard can now record and playback installation operations
FactoryTalk View File Viewer tool now supports reading running data log files and RecipePro files (.rcpf)
Corrected Anomalies
Button text is again resized when displays are resized
Navigation history is now cleared when a user logs out and then logs in
CurrentComputerHasGroup() now always returned correct result
AE_DisabledCount(), AE_NormalShelvedCount(), and AE_NormalSuppressedCount() now return correct numbers of alarms
ME Recipe 2 Enhanced ActiveX control now loads recipes correctly.
Multistate indicator now shows states correctly
Using VBA to automatically logout a user no longer crashes clients.
Security functions CurrentUserHasGroup() or CurrentComputerHasGroup() now work correctly with other functions or tags in an expression
On-screen keypad now shows the correct maximum value
The text object can now read String variable tags which include "N:"
Displays now opened in correct order when using both the /ZA command and VBA code
For a complete list of Corrected and Know Anomalies, see the official product release notes.
---
Find out more about ViewSE 10.0
If you would like to view the FactoryTalk View Site Edition 10.0 release notes, head over to Rockwell's Product Versions webpage and search on and then select FactoryTalk View.
Once all the versions are listed, click on the document icon as shown below: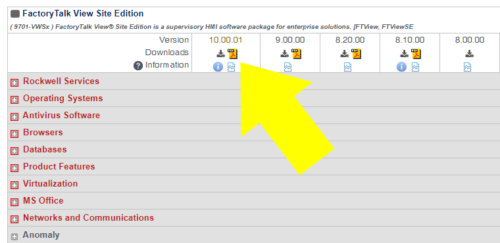 ---
If you'd like to listen to a discussion of the above, check out Episode 41 of The Automation Podcast below:
---
So, what do you think of the new features in ViewSE 10.0?
Will you jump on 10.0 right away because of one of the added features?
You can share your thoughts and opinions by clicking on the "post a comment or question" link below.
Until next time, Peace ✌️ 
Shawn M Tierney
Technology Enthusiast & Content Creator
Have a question? Join my community of automation professionals and take part in the discussion! You'll also find my PLC, HMI, and SCADA courses at TheAutomationSchool.com.
If you found this content helpful, consider buying me a coffee here.