UPDATE: As of January 2019 this procedure still works as long as you follow all the steps, including Step 5 and 6.
I commend Rockwell on their efforts to improve their website, however it's disappointing they often don't provide redirects from old pages to new, leaving thousands of daily visitors landing on broken or missing pages like the one below:
That in mind, I've redirected my RSLogix Micro Starter Lite Download Link to come to this page where I can keep this procedure on how to download the free software up-to-date:
---
1) Start by navigating to www.ab.com, which will redirect you to ab.rockwellautomation.com:
2) Then select Compatibility and Download on the front page:
3) Now type in "RSLogix Micro" in the search box, and then choose "RSLogix Micro Starter Lite w/o RSLinx EN" from the list:

4) Then select "Download":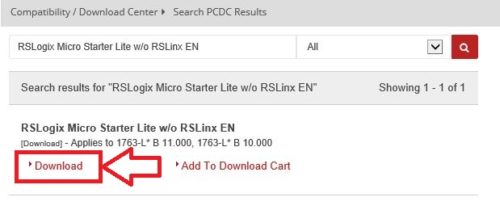 5) Next, expand the version listing by click on the plus sign:



6) And the select the downloads link (a small picture of a hard drive and arrow) for version 10 as shown below: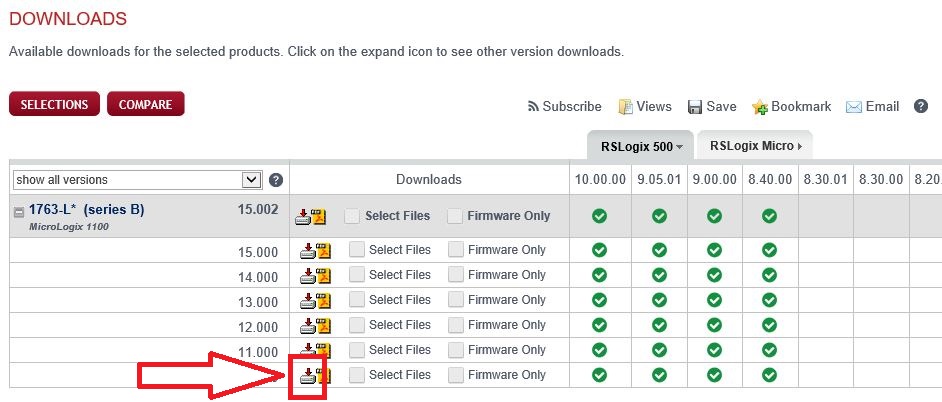 Important: Today, only the downloads for version 10 and 11 have links to the software downloads, so it's important to chose the link shown above:
7) In the next window, select the check-boxes for RSLogix Micro Starter Lite w/o RSLinx EN, RSLogix Emulate, and RSLinx Classic Lite as shown below:
NOTE: The software list shown below may not be in the same exact order as what you find online today as over time Rockwell rearranges this list.

8) Then select the "Download Now" button on the bottom right: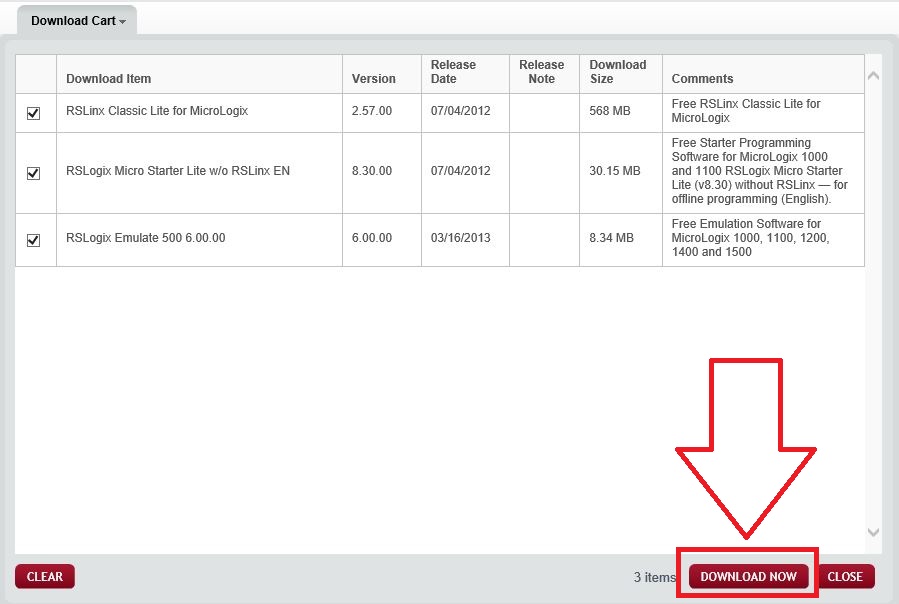 9) At this point you may be asked to login. If you don't already have a free account go ahead and create one and log in so you can continue with the download: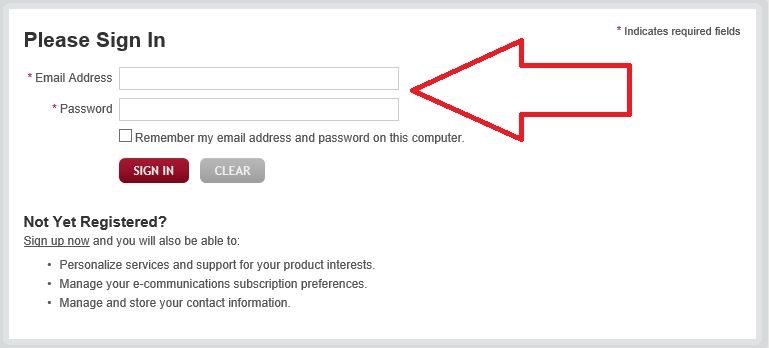 10) Accept the terms:
11) Next I recommend selecting "Direct Download":

12) Now select the links to download RSLogix Micro Starter Lite, RSLinx Classic, and RS Emulate 500: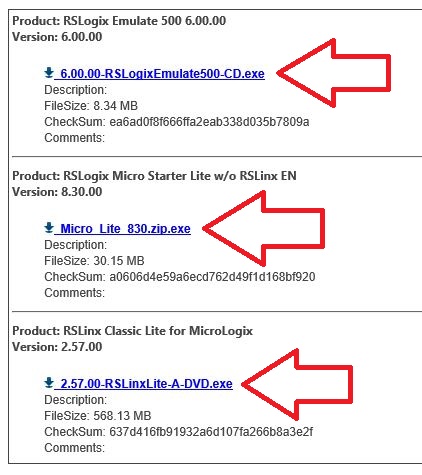 Note: Below you'll find a screenshot of Rockwell's website showing which versions of Windows 7 RSLogix Micro 8.3 is supported on (it does work well on Windows 10, but the free version is not officially supported on that OS:)

For information on other operating systems check out Rockwell's compatibility website using the link below:
---
NEW! See the above procedure demonstrated in Episode 6 of The Automation Minute, Season 3:
---
Sincerely,
Shawn Tierney
Automation Instructor and Blogger

Enjoy the benifits of membership! Insider news, rewards, & more: Patreon.com/automation
If you enjoyed my article, you may like my courses at TheAutomationSchool.com
Have a question on this topic? Click here to scroll down to the comment link
Have a news tip? Share it with us here
Shawn began sharing automation news and know-how online in 1996 when he launched his first BBS. Then in 1999 he moved to the internet launching ShawnMichael.com, which he later renamed ShawnMTierney.com. In 2013 he moved his automation efforts to a new website, TheAutomationBlog.com, which has since become the most popular independent industrial automation blog on the web.
Latest posts by Shawn Tierney (see all)
Click HERE to scroll down to view or leave comments
Forum Comments:
---
Hi!
First of all, I wanna say thanks, because your forum is very interesting, and Ii'm using it to improve my knowledge in some things.
I wanna ask you if you know how can I download rslogix emulator 5000, because only the 500 version seems available.
Thanks a lot.

Good afternoon @

marandlo

,

You know, Emulate 5000 has not been a free download like Emulate 500 has. In fact, Eumulate 500 is the only free Emulate download Rockwell makes that I know of.

Sincerely,

Shawn Tierney, The Automation Blog

Shawn - Any thoughts on if RSLogix 500 Lite is still valid? Trying to get a remote customer to connect to a 1400. We had them download it along with RSLinx Lite and upon remoting into their machine could see the faqulted processor in Linx but could not go online, upload or diag. Popup window comes up with an error about using Linx Gateway (we are set it up to talk via Enet driver in linx) with Ethernet driver to go online. But we are not using linx gateway.
Then after reboot - Got a popup window starting Logix Lite saying it doesnt support Micro 1400's.
Comments or thoughts?

Hi Shawn,
OK - Full Disclosure - I know next to nothing about PCLs. But I have recently ordered an Micrologix 1400 as a gift for my wife who wants to get back into programming PCLs (she had some experience with SCADA programming in grad school).
After reading your very informative article, I now understand that the RSLogix Micro Starter Lite software I was hoping to download for her does not work with the 1400. What are my options for finding free or affordable software she can use to program the device? I see from one of your responses to a reader comment that there may be a free download utility that can be used to in some way? Can you provide more details on that?
Thanks.

Good afternoon Forward500,

For the MicroLogix 1400 you'll need RSLogix Starter Micro which is under $200 last time I checked.

You can order it from your local RA distributor which you can look up on their website (

www.ab.com

)

PS - You might also want to get her a DVD copy of my PLC Basics Second Edition course which is still just $99 until January 1st:

https://theautomationschool.com/courses/plc-basics-second-edition-course/

Hope this helps,

Shawn Tierney,

Instructor, The Automation School

i have the A-b micrologix 1200 How should i go about downloading RSLogix Micro, RSLinx Etc.heard they were free but not being allowed to setup the account need to start the download is there anywhere else where i could get the software???

Good morning @

ceruleanblue

,

There is no free software download of RSLogix for the MicroLogix 1200.

You can contact your local RA rep and ask for a "30 day free demo" of RSLogix Micro Starter, which currently carries a list price of $151:

https://theautomationblog.com/what-are-temporary-activations/

Hope this helps,

Shawn Tierney,

Instructor, The Automation School