Early last week while consulting for a client over WebEx, I came across the fact that last month Rockwell had released redundancy firmware version 24.052 for the ControlLogix L74.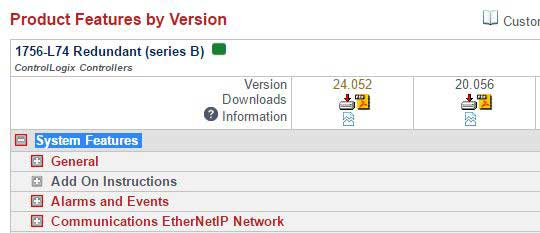 If you're familiar with Rockwell and ControlLogix, then you probably know the .5 versions of firmware represent "redundancy" versions, with 24.052 being the first redundancy release supporting Studio 5000.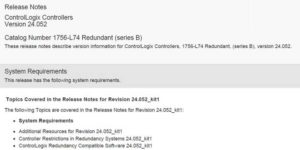 That said, the only ControlLogix processor line that currently supports version 24 is the 5570 (L7) family, as the 5560 (L6) family version support ended at v20, and the new 5580 family support starts at v28, for which there is no redundancy firmware currently available.
So what's new?
The release notes for v24.052 state the following changes have been in comparison to the previous release:
Extended tag properties, rung comments, and description supported
Updated FTAE alarm state and subscription model support
Support for up to 3000 active FTAE alarms and bursts up to 250 simultaneous alarms
Support for up to 1000 programs
Add-On Instruction hardware abstraction support
Program parameters support (new features added to what was previously called Program Tags)
For the complete list of what's supported in v24.052 of ControlLogix firmware, head over to Rockwell's PCDC website and grab yourself a copy of the release notes.
And for step by step instructions on how to download ControlLogix firmware, see our previous post here:
Until next time, Peace ✌️ 
Shawn M Tierney
Technology Enthusiast & Content Creator
Have a question? Join my community of automation professionals and take part in the discussion! You'll also find my PLC, HMI, and SCADA courses at TheAutomationSchool.com.
Latest posts by Shawn Tierney
(see all)