---
In today's article we'll discuss what you need to know about CompactLogix and ControlLogix firmware, as well as how to get it.
Each Allen-Bradley Logix processor supports many different firmware revisions.
And it's often the case that you'll load the newest firmware supported into new processors used in new applications.
However, when replacing an existing processor you'll often want to load the same firmware in the new processor that was present in the processor being replaced.
But, does your new processor support the older firmware?
To find out, you're going to have to do a little homework.
First, you need to look at your Logix processor, or the box it came in, and find the catalog number and series letter.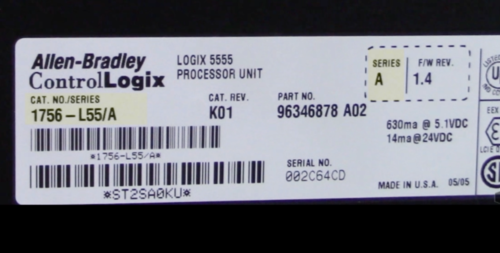 Next, open the newest version of RSLogix or Studio 5000 you have, and under the "Help" menu select "Release Notes."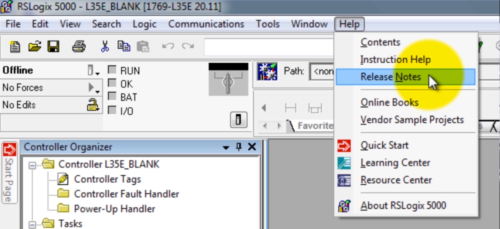 When the release notes open, scroll down a few pages and you'll find a table that lists all the Logix procesosrs ever made, and their compatible firmware versions.

If you don't have RSLogix or Studio 5000 available, or need to download a version of firmware not included on your disc, you can actually find the above information and download the firmware from Rockwell's website.
To do so, follow these eight steps:
Step 1) First, navigate to www.ab.com, which will redirect you to ab.RockwellAutomation.com.
Step 2) Then on the left hand side of the main page, select the Product Compatibility and Download Center (PCDC) link.

Step 3) Once the PCDC page loads, in the "Views" section select "Available Versions"

Step 4) Now type in your processor catalog number, select it from the list, and select the series letter if prompted.


Step 5) Next you should see a complete listing of all the firmware available for your controller.

Step 6) To download firmware, first click on the gray rectangle below the red arrow and version number of the firmware you wish to download.

Step 7) Then in the popup window select the firmware as shown:

Step 8) After you login with a free Rockwell account, and accept Rockwell's terms, your be presented with the choice of a managed or direct download:

I hope the above article about finding which versions of firmware your Logix processor supports, as well as how to download that firmware from Rockwell's website was helpful.
If you'd like to learn more about Rockwell's CompactLogix and ControlLogix PACs, and see a video of the above procedure, check out my new free PAC Getting Started course at TheAutomationSchool.com
And if you have any comments or questions about this article, please feel free to share them with us by using the "post a comment or question" link below.
Until next time, Peace ✌️ 
Shawn M Tierney
Technology Enthusiast & Content Creator
Have a question? Join my community of automation professionals and take part in the discussion! You'll also find my PLC, HMI, and SCADA courses at TheAutomationSchool.com.
Latest posts by Shawn Tierney
(see all)