---
So you've downloaded and installed Rockwell's Ethernet/IP capacity tool, but it won't run?
Are you getting the below pup-up error which states, "The program can't start because mfc100.dll is missing…"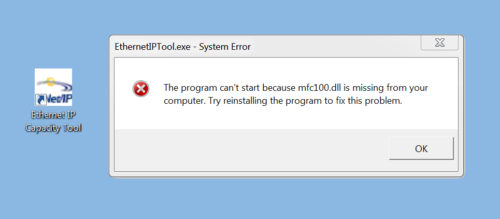 Well the good news is there is a pretty easy fix for this issue.
What you need is to install the Visual Studio 32bit redistributable package.
To get it, start buy navigating to the below URL:
Once downloaded, install the above package.
Once installed, you should now be able to open and run Rockwell's Ethernet/IP Capacity Tool.
For more information about this tool, see our previous articles:
---
I hope you found today's article helpful. If you have any comments, questions, or suggestions please don't hesitate to leave them with us by filling in the "post a comment or question" link below.
Until next time, Peace ✌️ 
Shawn M Tierney
Technology Enthusiast & Content Creator
Have a question? Join my community of automation professionals and take part in the discussion! You'll also find my PLC, HMI, and SCADA courses at TheAutomationSchool.com.