Rockwell's Automation Fair: What is it, when and where is it, and what should I expect?
What is Automation Fair?
Rockwell describes it's Automation Fair as follows:
"The premier automation industry event. Attend industry forums, hands-on labs, tech sessions & demonstrations to expand your knowledge & use the latest control, power & information technologies"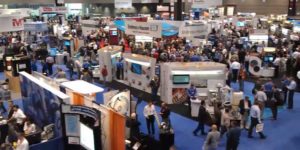 In my words, Rockwell's Automation Fair is a large, free, Rockwell sponsored trade show coupled with a hundred hands-on sessions and presentations. The show typically draws in over 10,000 attendees, most of which are electrical or controls engineers.
Yes, I said the show is completely free. Registration is required before you can enter the show, but on-site registration is available. Security is also present to insure no unregistered guests enter the show or educational sessions.
Lunch is included free both days as well. It's setup in a large curtained off section of show floor with dozens of buffet stations and hundreds of dining tables. While you might think it would be challenging to feed 10,000 attendees, every year I've attended lunch has always gone smoothly.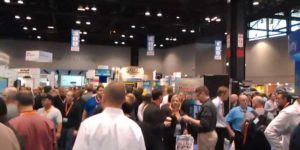 When and where is Automation Fair held?
Automation Fair is held in November and spaced appropriately from the Thanksgiving holiday.
Each year it moves to a new region of the country, flowing roughly from East to West. Below I've listed the last ten cities it's been held in:
2004 Orlando, FL (#13)
2005 St. Louis, MI (#14)
2006 Baltimore, MD (#15)
2007 Chicago, IL (#16)
2008 Nashville, TN (#17)
2009 Anaheim, CA (#18)
2010 Orlando, FL (#19)
2011 Chicago, IL (#20)
2012 Philadelphia, PA (#21)
2013 Huston, TX* (#22)
2014 Anaheim, CA (#23)
2015 Chicago, IL (#24)
2016 Atlanta, GA (#25)
2017 Huston, TX (#26)
2018 Philadelphia, PA (#27)
2019 Chicago IL (#28)
*This year Rockwell is holding it's 22nd Automation Fair on November 13th and 14th in Houston, Texas. For more details on this years event, click here.
If you would like to travel with peers from your area, check in with your local Rockwell Authorized Distributor as they typically offer very reasonable priced "all expenses included" travel packages to the show.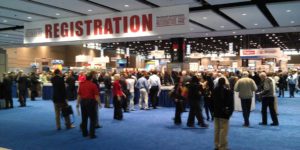 The trade show part of Automation Fair is substantial, including booths from all the major Rockwell product lines as well as dozens of third party vendors like Spectrum Controls and Prosoft Technology.
If you stopped by every vendor to learn about their product or service it would likely take you the entire two days to make the rounds, and even then you may not get to every booth.
Note: For a complete list of this year's Automation Fair trade show exhibitors, click here.
The training at Automation Fair is also substantial. This year it consists of 19 hands-on labs, 83 technical sessions, and several industry forums.
I highly recommend making the training the focus of your trip as there is no other venue where you can get such diverse hands-on experience with Rockwell Allen-Bradley products.
Since the Fair typically brings in over 10,000 attendees, it's crucially important for those who want a seat in hands-on or technical sessions pre-register for those seats online.
As registration for the 2013 sessions is now open, if you plan on attending this year you should register for your sessions ASAP.
If you do, a few weeks prior to the show you'll need to confirm you still plan on attending the sessions you've selected. This confirmation must be done in order to keep your spot in the sessions you've chosen.
If you don't pre-register for any sessions, you may get to Texas and find no open seats in any hands-on classes, although many of the technical sessions are held in large meeting spaces with room for last minute walk-ins.
For a listing of this year's Automation Fair hands-on labs click here.
To register for this year's Automation Fair, click here.
Final thoughts
Rockwell's Automation Fair is a definitely a worthwhile event for clients who use Rockwell Automation and Allen-Bradley products.
While walking the trade show floor is appealing, I highly recommend putting the hands-on sessions and other presentations first on your list, and then filling in the time between your classes with targeted visits to the trade show booths of the products most applicable to your current needs.
I hope this Automation Fair 101 was helpful. If you have any questions or comments your can leave them here by using the "post a comment or question" link below.
Until next time, Peace ✌️ 
Shawn M Tierney
Technology Enthusiast & Content Creator
Have a question? Join my community of automation professionals and take part in the discussion! You'll also find my PLC, HMI, and SCADA courses at TheAutomationSchool.com.
Latest posts by Shawn Tierney
(see all)