In a previous article here, we discussed the latest release of Factory Talk AssetCentre version 10.00.00.
In case you are unfamiliar with an AssetCentre project and the looks of it, I want to take an article to show you some basic setup, how it looks and how you can interact with it to build your own project. This will give you insight to what you can accomplish with it as well.
Organization – Adding a Generic Container
I would call a Generic Container an organization object. It can be used as an area of a location or equipment type that helps you organize your projects in that area or equipment location.
Click the "Design" button to place the project in the design mode
Click the "Generic Container" icon and select "OK"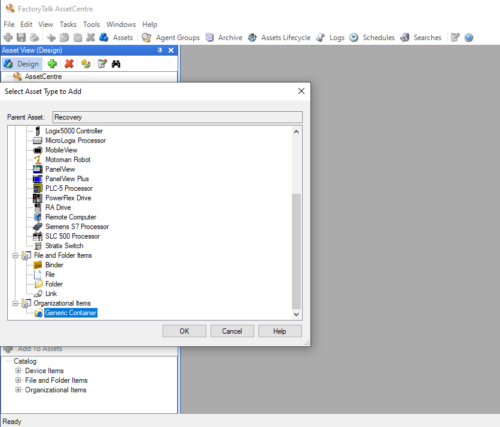 Image by Brandon Cooper
Next, change the default name of the container to in this case "Hospital". For our imaginary project, we could have a hospital area, with a PLC controlling the main gate of the parking garage.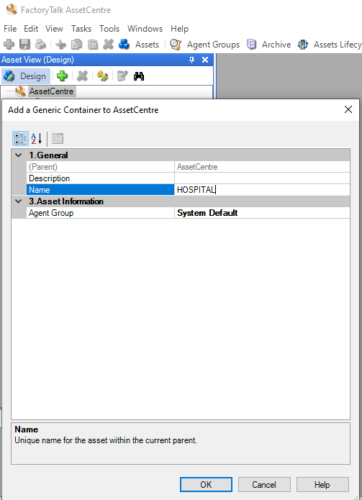 Image by Brandon Cooper
Adding a Programmable Logic Controller
After creating an area called HOSPITAL, you could then create a sub-area called "Parking Garage" using another generic container. Then, in design mode, select the "New" icon again to add a new asset to the system.
Select "Logix 5000 Controller" and click the "OK" button

Image by Brandon Cooper
As shown in the circled areas below: next to Name you can give the PLC controller a name. Here we use "Gate"
Addressing Info: this will be the path to your PLC processor, that will be found by browsing through RSLinx to the controller
Configuration Data: This will be your Studio 5000.ACD File for the PLC Project that you will browse to through a windows explorer and attach to your asset.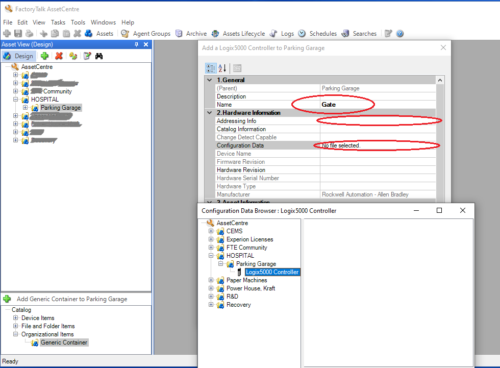 Image by Brandon Cooper
Click the "OK" button and the Gate controller will live in the tree under the Parking Garage area as shown here. The .ACD file will also be shown under the Controller in the tree as well when a file is attached. This file is where you can "Check Out" the project to open it and make changes and "Check In" the project when work is completed. Only projects that are "Checked-In" will be backed up during a schedule.

Image by Brandon Cooper
Adding a Backup Schedule
A great way to have automatic backups of your plc project files is to create a backup schedule.
Under the "Schedules" tab, select "New"
Select Disaster Recovery – Backup
Give the backup a name: here we use "Hospital_Backups" and click the 'Next" Button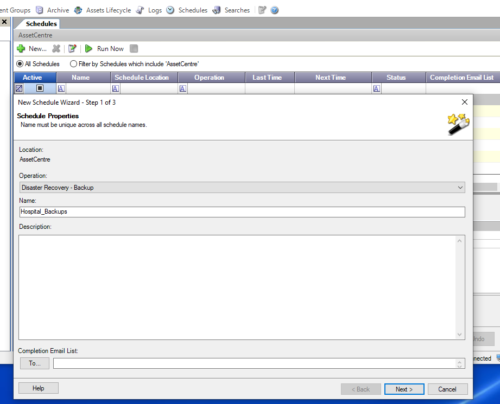 Image by Brandon Cooper
In the 2nd step, you select how often you want the backup to run and on what day(s)
Here we select every Monday, once a week at 10:45 AM. Click the "Next" button
Select the "Hospital" Asset to back up in the Backup Schedule
Click "Finished"
You have now created an automatic backup schedule that will run automatically if enabled or can be run manually at any time.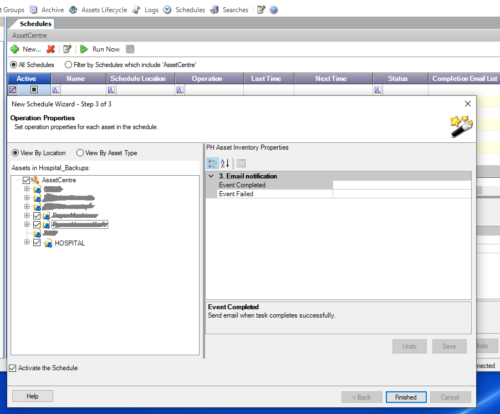 Image by Brandon Cooper
Adding a System Search
Another feature in AssetCentre is the System Search feature. An example is a search on how many PLC projects are in the "Check Out" state. You might want to run this search before a backup is to run so that the projects can be checked back in and get backed up during the schedule.
Under the "Searches" tab, click "New" and select "Archive Check Out Status"
Give the Search a Name: Check out Status_Hospital in this case
Click the "Finished" button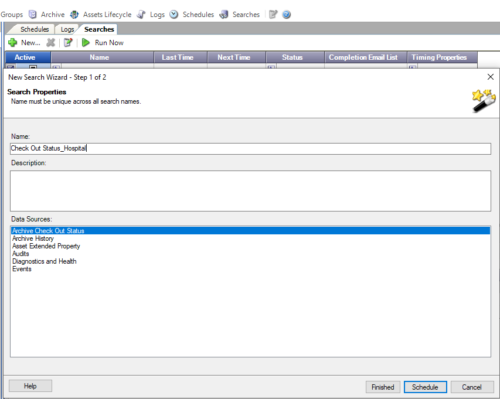 Image by Brandon Cooper
Manually run the search by clicking the "Run Now" button and this is an example of a report that shows date, what computer(Client) each file is checked out from and what file is checked out.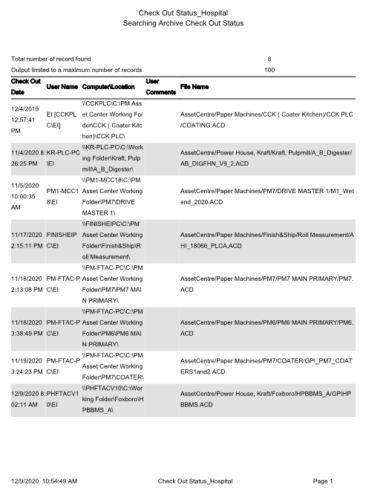 Image by Brandon Cooper
Conclusion
While this is only a few examples and basic operation, it hopefully gives you some insight into the simplicity of setup and configuration and its capabilities of what it can and can't do for you.
You can also do complex reports to show changes, forced values in controllers and so many other things. My best to you in your endeavors with FTAC.
Written by Brandon Cooper
Senior Controls Engineer and Freelance Writer
Have a question? Join our community of pros to take part in the discussion! You'll also find all of our automation courses at TheAutomationSchool.com.
Sponsor and Advertise: Get your product or service in front of our 75K followers while also supporting independent automation journalism by sponsoring or advertising with us! Learn more in our Media Guide here, or contact us using this form.