---
In my final article on Automation Fair 2014, I share three more products of interest from this years show:
1) Dynamix 1444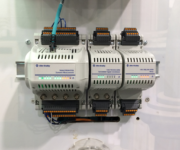 Rockwell's soon to be released Dynamix 1444 is the company's new condition monitoring product for it's integrated architecture platform.
Sporting built-in dual-port Ethernet ports, this unit is designed from the ground up to be integrated into a Studio 5000 project with a very extensive add-on profile (AOP) shown at the show.
The base unit comes with two speed inputs, two digital inputs, two digital outputs, and one relay output. Expansion modules shown included a Tachometer input module and Relay output module.
---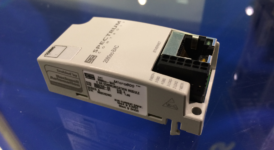 2) 2080sc-BAC
With Spectrum Control's new Micro800 BACnet module paired with a Micro830, we can finally provide a PLC with BACnet support under $300.
This is perfect for HVAC applications where often custom circuit boards are used for VAV controls to reduce costs.
---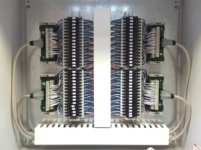 3) 1492-JP
Honestly, I never understood why Rockwell's previous 1492 wiring system terminal blocks were so large.
Now with the 1492-JP series, their size is more in line with offerings from other vendors saving precious panel space.
4) MicroLogix Family makes a cameo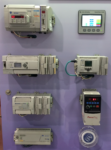 Ok, I know I said three products, but I just couldn't resist sharing a picture of the complete MicroLogix family on display.
This line isn't new by any means, but it's still extremely popular and beloved by many PLC programmers who prefer RSLogix over CCW.
So in homage to twenty years of MicroLogix products, I thought it was really nice to see this line get it's own little corner at the show.
And for the record (as of yesterday) this complete line products is still shown as "active" on www.ab.com/silver.
---
Well that's it for today's article and my coverage of Automation Fair 2014.
If there are any products of interest you think I missed, or if you have suggestions on how I could cover next year's fair better, I'd love to hear from you! Just fill in the "post a comment or question" link below.
Until next time, Peace ✌️ 
Shawn M Tierney
Technology Enthusiast & Content Creator
Have a question? Join my community of automation professionals and take part in the discussion! You'll also find my PLC, HMI, and SCADA courses at TheAutomationSchool.com.