---
One of my favorite Automation Fair Technical Sessions is "What's New in View," and in today's article I'll highlight the slides that caught my attention as I reviewed this year's presentation.
---
First up was several slides about the PanelView 5000 series, but before we get into them I wanted to share a little about this product line.
For those who don't know, the PanelView 5000 is Rockwell's "next generation" of HMIs, and uses development software (View Designer) that is bundled with Studio 5000 Logix Designer.
Note: I use to tell my students that View Designer was included with Studio 5000 Logix Designer at no charge. But, since View Designer's release the price of Studio 5000 has increased by over 60%! So it now appears it would be more accurate to say that cost of View Designer is included in the price of Studio 5000 Logix Designer.
While "next gen" features may be the long term plan for the PV5000 product line, today both the PanelView 5310 and 5510 lack many of the basic features found in Rockwell's existing PanelView Plus 7 HMI, even though the new "PV5000" HMIs only work with the latest Logix controllers (5×70 and 5×80.)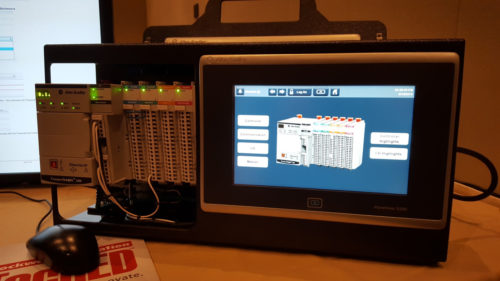 So unless you need a feature unique to the PanelView 5000 line, or you just prefer View Designer over View Studio, you may find that the PanelView Plus 7 provides more options and functionality for the same price
Now, back to the presentation 😉
---
The first few slides covered details about the PV5310 series, including these details:
Touchscreen models available from 6″ to 12″
Program using View Designer v4+
100 Screen Limit, 1000 Alarm Limit
Single Controller Limit
Controller must have firmware v27 or greater
Equipped with a single 10/100 Ethernet Port
Has two USB ports: One host, one device
Built-in SD Card Slot
Rated IP65/Nema 4X, 0-50c
Available in DC Power only
Based on the fact that the PV5310 HMI only supports a single Logix PAC with v27 or greater firmware, it appears the focused market of the 5310 is the newest Logix applications with an HMI only needs to communicate with a single controller.
---
Next up are details about the new PV5510 series which is replacing the original PV5500:
Touchscreen models available from 7″ to 19″, with optional Keypad on select sizes
Program using View Designer v4+
100 Screen Limit, 1000 Alarm Limit
Four Controller Limit (as of the release of v5)
Controller must have firmware v27 or greater
Equipped with Dual 10/100 Ethernet Ports supporting DLR
Has three USB ports: Two host, one device
Built-in SD Card Slot
Rated IP66/Nema 4X, 0-55c (except 19″ which is 50c)
Available in DC Power only
The added support in v5 for up to four controllers is much welcome news for the more expensive 5510. That, along with the new View Designer features which we'll cover next.
---
First, Rockwell reviewed the new features found in the last released version of Studio 5000 View Designer, which was version 4:
Terminal Emulator (aka offline testing)
Remote Access via VNC
Real-Time Trending
Local Data Logging
Device Faceplates
Loading Applications from Removable Media
Then Rockwell detailed what's new and planned for the next release, version 5:
PDF Document Viewer
Support for Logix Tag-Based Alarms (introduced in v31)
Automatic Logout support
Four "Logix" Controller Support with 5510
Bindable Popup Captions
NOTE: While the above new features are all welcomed, keep in mind equivalents have existed in the PanelView Plus line for many years.
---
Moving on from the PanelView 5000, Rockwell's presentation then covered its Thin Manger and Industrial Computer offerings prior to providing an update on the PanelView Plus 7.
According to the slides, coming this May (2019,) Rockwell will be releasing a much requested new option for PVP7 9″ and 12″ units: IP69K rated bezels with NFS Certification for Food and Beverage applications.
PVP 6 NOTE: On a related note (while no public announcement has yet been made) word on the street is that PanelView Plus 6 production will be coming to an end in the next 24 months. This change should only effect new orders for PanelView Plus 6 units as Rockwell often supports existing customers who own discontinued products with repairs and exchanges for ten or more years.
---
Finally, towards the end of the presentation Rockwell highlighted what's new in FactoryTalk View version 11.
Machine Edition is said to be getting these new features:
Application Manager will show .MER and .APA version in tool
Separate Version ID also will be available
Site Edition is said to be getting these new features:
New support within Asset Centre (backup, compare, etc)
TrendPro support for Asset Centre Audit Logs
TrendPro enhancements to Alarm plotting and configuration saving
TrendPro new features including plotting related actions along side time-series data
TrendPro support for configuration with an ISA-101 "look and feel"
RecipePro+ enhancements including current recipe viewing and refined audit log
New FT Diagnostic Object with customizable filter
Updated E-Signature functionality on Command Buttons, and Numeric and String Inputs
New VBA Interface for HMI TagDB (enables reusing of more RSView32 VBA)
FT Event added in Alarm and Events, severity of 0 to separate from Alarms
Removal of HMI Tag Alarms, migration tool installed with v11
---
Well, those our my highlights from this year's, "What's New in View" presentation from Automation Fair.
If you'd like to see the entire presentation, head over to the downloads page covered in

this article

, and search for presentation T52.
And if you think I left something out or would like to share your own thoughts and comments, I invite you to do so by clicking on the "comment" link below my signature.
Until next time, Peace ✌️ 
Shawn M Tierney
Technology Enthusiast & Content Creator
Have a question? Join my community of automation professionals and take part in the discussion! You'll also find my PLC, HMI, and SCADA courses at TheAutomationSchool.com.
If you found this content helpful, consider buying me a coffee here.
Latest posts by Shawn Tierney
(see all)
December 5 News: 50kg Robot, Ex Tablet, IOLink, Ethernet-APL, MQTT QOS, Logix/View Docs & more (N150)

- December 5, 2023

November 30 News: TIA Portal v19, Productivity Suite 4.1, Industrial Strip Light, OPC Pub/Sub & more (N149)

- November 30, 2023

MOXA's New Industrial Computers (P181)

- November 29, 2023