When I think of a Panelview, so many experiences come to mind.
I have worked with so many hardware models, software such as Panelbuilder 1400E, Panelbuilder 32, Factory Talk ME versions 4.0 up to the latest, communications using DH+/RIO, ControlNet, & EtherNet.
In each of these cases, it was a completely different software than the software that I would need to program my PLC.
Well, that has finally changed with the Panelview 5000 series.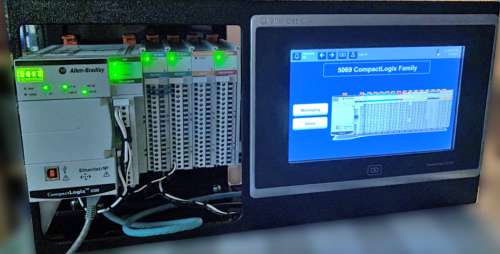 I was recently able to get my hands on a PV 5510 demo unit and get acquainted with both the hardware and the software and I want to share the things that I learned along the way.
Notable Features:
Shared Logix Tags help simplify engineering time by browsing straight to your Logix controller tags without having to create HMI tags.

Logix-based alarms are automatically available on the PanelView 5510 & 5310 graphic terminals – eliminates additional programming and reduces network traffic

High-Speed Button Controls – can interact with Logix controller at I/O Speeds

Runtime Language Switching

Alarm History – up to 40,000 alarms and can be exported to SD card or USB Drive
Terminal Settings:
Terminal Settings are straight-forward and easy to figure out if you are familiar with Panelview terminals in general. I'll go over a couple of the settings in further detail.

HMI Device:
On the HMI Device tab, you can disable downloads and firmware updates if you wish to "Lock Down" the Panelview so that the configuration cannot be modified.

Network:
In the network tab, you can set the IP Address, Speed/Duplex settings and monitor port configuration such as DLR detection, duplicate IP detection and other parameters.

Restoring to Factory Defaults:
If such a need arises to restore your PV 5510 to factory defaults, this short procedure will allow you to do so:

Cycle Power to the Terminal

When the A-B logo appears as shown above, wait a few seconds, then Tap the logo.

You will be asked if you would like to restore the terminal to defaults. Tap "yes"

You will be asked for confirmation, again, Tap "yes"
The terminal will display "Scrubbing" while the restore is taking place, but then will reboot normally and take you to the "Terminal Settings" display when complete.

Opening Studio 5000 – Selecting Logix Designer View
Open Studio 5000 Software

Select "New Project"

Select "View". This will give you the Panelview models to choose from instead of Controller models that you will normally see with "Logix" Designer Software.

References:
Conclusion
The PV 5510 is similar in appearance to many previous models of a Panelview as far as hardware is concerned, but it pretty much stops there.
Logix View Designer software has a completely new look and feel from the Factory Talk Studio software.
The PV 5510 also has many built-in features and controller integration with Logix controllers that I hope to explore and pursue in the very near future.
Written by Brandon Cooper
Senior Controls Engineer and Freelance Writer
Have a question? Join our community of pros to take part in the discussion! You'll also find all of our automation courses at TheAutomationSchool.com.
Sponsor and Advertise: Get your product or service in front of our 75K followers while also supporting independent automation journalism by sponsoring or advertising with us! Learn more in our Media Guide here, or contact us using this form.