---
In today's article I'll share a simple tip on how to find your RSLogix 5000 .ACD file version without opening it in RSLogix 5000.
Why would you care?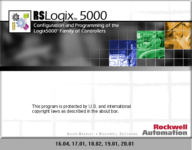 Experienced RSLogix 5000 users know that you only install the versions of RSLogix you believe you'll need. So if you're sent a file to look at, it can be quite handy to know the version of Logix it was created in prior to attempting to open it.
Another reason could be a colleague or contractor needs to know the version of your project prior to doing work on the system, and being able to quickly find this regardless of what version of RSLogix 5000 is installed on your PC can be very helpful.
Finally, as not all versions of RSLogix 5000 are supported on all versions of Windows, many RSLogix 5000 users utilize virtualization software to run multiple versions Windows on the same PC. So knowing which version of RSLogix you need by knowing the ACD version before choosing a VM to boot has it's advantages.

So, how do I find out what version my ACD file is without RSLogix?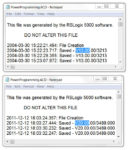 To find out what version your ACD file is, simply open the file in a text editor like Microsoft's Notepad.
There you will see near the  top of the file the version of the RSLogix 5000 the ACD file was created in.
However, since an ACD is not a text file like the L5K, as you scroll down you'll begin to see unreadable information.
---
I hope you find this short tip on finding your ACD version outside of RSLogix 5000 helpful.
If you have any tips like this you would like to share, or if you have a comment, question, or correction, please don't hesitate to share them with us by filling out the "post a comment or question" link below.
Until next time, Peace ✌️ 
Shawn M Tierney
Technology Enthusiast & Content Creator
Have a question? Join my community of automation professionals and take part in the discussion! You'll also find my PLC, HMI, and SCADA courses at TheAutomationSchool.com.
Latest posts by Shawn Tierney
(see all)