UPDATE: Rockwell discontinued the MicroLogix 1000 in June of 2017.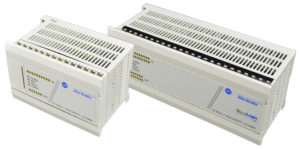 Launched in 1994, the MicroLogix 1000 was the first Micro PLC released from Allen-Bradley.
Seen as a replacement for the bulky SLC-500 Fixed unit, the MicroLogix 1000 was substantially smaller and less expensive.
However, the MicroLogix 1000 initially only came in two versions: 16 I/O and 32 I/O. And, unlike the Fixed SLC-500 controllers (and the SLC-100/150 before it,) the MicroLogix 1000 was not expandable.
On the plus side, the unit programmed with the same software as the SLC-500 series. Allen-Bradley also released a low cost Hand Held Programming Terminal and DOS based programming software for the MicroLogix 1000.
Another advantage of the MicroLogix was the DC Input models supported either sinking or sourcing inputs. With the SLC-500 I/O modules, you had to choose either sinking or sourcing.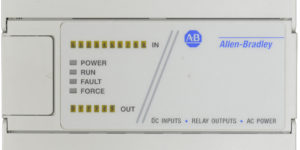 The MicroLogix 1000 includes a single serial port, Com 1, for communications. Initially it only supported the DF1 Protocol, and was limited to respond only mode. This meant the MicroLogix 1000 could respond to read and write commands from other devices, but it couldn't initiate a request.
Later, with the introduction of the series C version of the MicroLogix 1000 Discrete units (and 20 point Analog models) the MicroLogix family gained the ability to initiate communications using DF1, or the newly supported DH-485 protocol. When using DH-485 however, a 1761-NET-AIC would typically be used to convert RS-232 to RS-485.
With the launch of the smallest MicroLogix, the 10 I/O point units, Allen-Bradley also released a free version of RSLogix 500 dubbed, "RSLogix 500 Starter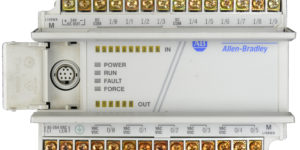 10pt MicroLogix software." This was the first ever free version of an RSLogix package. In 2009 Rockwell replaced the free 10pt version with, "RSLogix Micro Starter Lite" which added support for all MicroLogix 1000 and 1100 models.
Today, even with slowly rising prices and competition from the new and less expensive Micro800 family, the MicroLogix 1000's relatively low price and similarity in programming to SLC-500 still make it a valuable programmable controller to learn.
More information on the MicroLogix 1000 can be found on the manufacturer's product webpage HERE.
UPDATE: Rockwell discontinued the MicroLogix 1000 in June of 2017.
Until next time, Peace ✌️ 
Shawn M Tierney
Technology Enthusiast & Content Creator
Have a question? Join my community of automation professionals and take part in the discussion! You'll also find my PLC, HMI, and SCADA courses at TheAutomationSchool.com.
Latest posts by Shawn Tierney
(see all)