NOTE: The free "RSLogix Micro Starter Lite" software only works with the MicroLogix 1000, MicroLogix 1100, and free SLC-500/MicroLogix Emulator, Emulate500.
If you need help learning to use RSLogix, check out my Five-Star rated PLC Basics online course. It comes with support and never expires.
---
Automation Tech Tip Video:
---
Article: How to download RSLogix Micro, RSLinx, & Emulate 500
Step 1) Navigate to www.ab.com:

Step 2) Select "Support" from the Top Menu of Rockwell's website: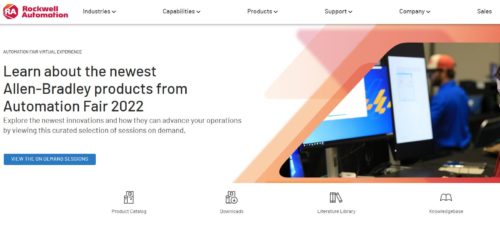 Step 3) Under "Product Support" select "Drivers and Firmware":
Step 4) Now search for "1763":

Step 5) Select "1763-Lxxx" from the list, and then choose version "10.000":

---
---
Step 6) Next click on the "Downloads" button on the right: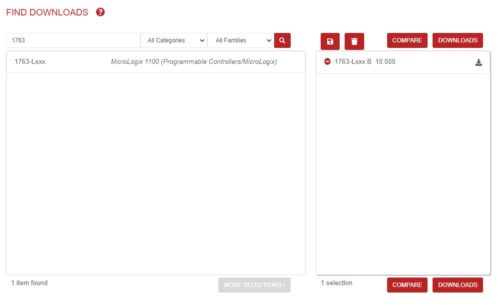 Step 7) And now click on the small, gray "Download" icon found to the right of the 10.000 version number and to the left of the orange PDF icon: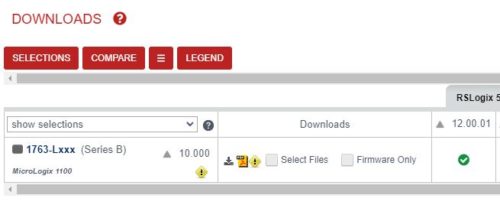 ---
---
Step 8) At this point you may be asked to sign in with your free Rockwell website account:

---
NOTE: If you don't already have a free account for Rockwell's website, go ahead and create one using a valid email address as you will need to open the email they send and confirm your registration. Once your account is setup, sign in so you can continue with the download.
---
Step 9) In the popup window that comes up, scroll to the bottom and then select the check-boxes for RSLogix Micro Starter Lite w/o RSLinx EN, RSLogix Emulate 500, and RSLinx Classic Lite as shown below. Once selected, click on the "Downloads" link on the top right of the window: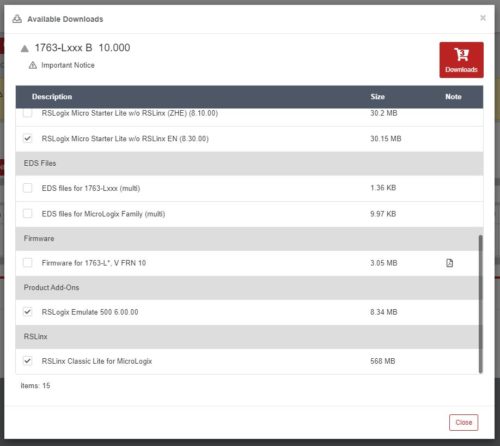 Step 10) Here select the "Download Now" button on the bottom right of the new popup window:

Step 11) Accept the end user license agreement in the next window: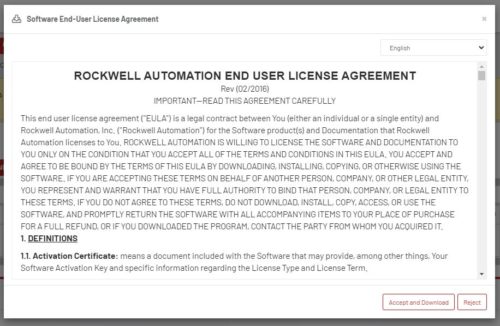 Step 12) Which will then prompt you to save the download manager file to your PC. Be sure you remember where you save it as the next step is to run it:

Step 13) Once you run the downloaded file, you will see a window similar to the below. Once all the downloads complete you can click on small blue "open" link near the top left of the window to open the RA downloads folder where your software as downloaded to: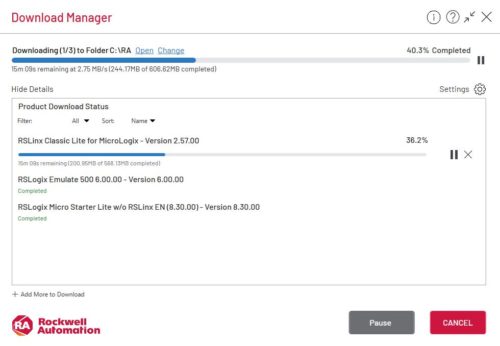 NOTE: In this example RSLinx and RSLogix is downloaded to a MicroLogix folder, and RSEmulate is downloaded to an Emulte500 folder.
Step 14) If you have any issues with the above download, you will find the following window still open in your browser, and here you can choose "Direct Download":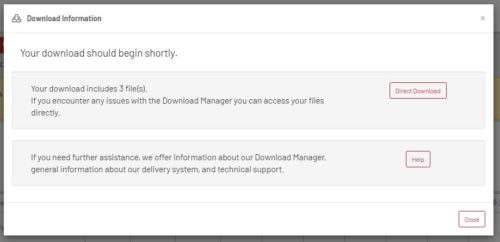 Step 15) If you do, you will see this next window that has individual links to download each file: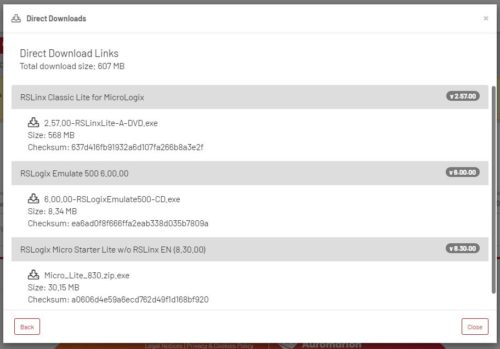 If you run into issue using RSLogix, feel free to sign-up to my Locals community and I'll help you there.
---
---
Compatibility Note: Below you'll find a screenshot of Rockwell's website showing which versions of Windows 7 RSLogix Micro 8.3 is supported on (it does work well on Windows 10, but the free version is not officially supported on it:)

For information on other operating systems check out Rockwell's compatibility website using the link below:
---
NOTE:

About

programming software for other A-B PLCs:
As of today there is no free "programming software" for the following A-B PLCs:
Options to program those PLCs are:
Ask Rockwell for a thirty day demo download of the software (aka temporary activation)(click here for details)
Borrow the "install discs" or "install files," then install and use the software for seven days in "grace mode"
Call your local Rockwell rep. (click here to find) to purchase a software license
Note: You can program the Micro800 series of PLCs with Rockwell's free CCW software (click here to get CCW).
---
Until next time, Peace ✌️ 
Shawn M Tierney
Technology Enthusiast & Content Creator
Have a question? Join my community of automation professionals and take part in the discussion! You'll also find my PLC, HMI, and SCADA courses at TheAutomationSchool.com.