---
Studio 5000 Logix Designer version 24
RSTechED is a great event to find out about what's new and coming from Rockwell Automation.
This year we got details of the new features and functions expected to be in Studio 5000 version 24 (formerly version 22) when its released later this fall.
Logical Organizer View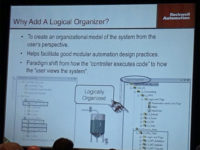 Since it's release over 15 years ago, RSLogix 5000's Controller Organizer presented a single organizational view. This view was "execution centric," displaying Routines, Programs, and Tasks in the order of execution.
In Studio 5000 version 24 Rockwell is releasing a second display mode based on a Logical View. In short, the Logical Organizer allows the developer to reorder items into a structure that more closely resembles the logical flow of the actual process.
Program Parameters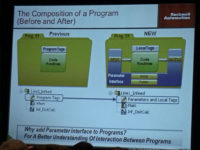 RSLogix 5000's program scoped tags are essentially a local scoped version of controller scoped tags. And being locally scoped, they could not be accessed by other programs.
In Studio 5000 version 24, Program Tags are replaced with Parameters and Local Tags which can be defined as Input, Output, InOut, or Local types. This change not only allows more versatility in the use of Programs, but it also enables the sharing of Program Parameters between Programs.
Library Enhancements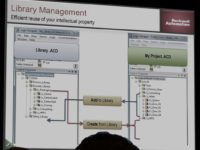 The new Logical Organizer, coupled with the Partial import feature and new Compare and Merge Tool together are billed as enhancing users abilities to create and manage sharable libraries of code.
As can be seen in the picture to the right, just the Logical Organizer alone should greatly ease the use of ACD library files with the ability to order and nest programs and routines in a logical manner.
What do you think?
While certainly not as revolutionary as controller based datalogs, or a graphical HMI design studio, these new features seem to promise improvements in the ease of using and reusing code.
But that's my opinion. If you have your own thoughts of what features you think Studio 5000 Logix Designer should have added in upcoming releases I would love to hear what they are – just post them in the "post a comment or question" link below.
Until next time, Peace ✌️ 
Shawn M Tierney
Technology Enthusiast & Content Creator
Have a question? Join my community of automation professionals and take part in the discussion! You'll also find my PLC, HMI, and SCADA courses at TheAutomationSchool.com.
If you found this content helpful, consider buying me a coffee here.
Latest posts by Shawn Tierney
(see all)