Earlier this month Rockwell released version 31 of Studio 5000 Logix Designer.
Below I'll summarize the new features as documented in the release notes, and I hope to cover some of these new features in more depth in the coming weeks:
New Features:
Security toolbar and Lock-all component locking for 5×80 controllers
CIP Energy object-backed tags added for 5×80 controllers
New IEC-61800-5-2 Drive safety instructions, including Safe Feedback Scaling, Safe Stop 1, Safe Stop 2, Safe Operating Stop, Safely-limited Speed, Safely-limited Position, Safe Direction, and Safe Brake Control with external brake
New Kinematics Motion instructions including Motion Coordinated Transform with Orientation, Motion Calculate Transform Position with Orientation, and Motion Coordinated Path Move
Increased Kinematics support includes 6 axis linear interpolation, 3-5 axis Delta geometry support, and Tool Center Point (TCP) programming with dynamic tool offsets
New License Validation instruction to verify if a non-expired Routine or AOI license is present
New FactoryTalk Linx Network Browser adds the ability to add or change the Ethernet driver and configuration within browser
New SIL/PL options for Safety Controllers to determine if project is SIL2/PLd or SIL3/PLe (i.e. the absence or presence of a safety partner)
Studio 5000 Help now delivered in HTML and opens in the default browser
Enhanced features
Newly improved interface increases editing space, updates icons and images, and adds more consistent of workflows.
Windows now tabbed, undockable, and support for multiple monitors with zoom and bookmark functionality added to each editor
Structured Text editor updated to add outlining, smart indentation, collapsible segments, as well as code snippets and completion prompts
Function Block editor updated to default sheet size to 11″ by 17″ (changeable online,) as well as Forcing I/O tags from the context menu and modifying operand values directly
Updated Data Type, User-Defined Data Type Tag Editor, and Add-On Instruction Tag Editors
Online Bar and Communications menu updated, added selection for default communication network browser
32-byte Safety Signature for Compact GuardLogix 5380, and GuardLogix 5580 Controllers
Various additional Motion and 5×80 enhancements
For a complete list of New Features, New Products supported, and Anomalies, see the official product release notes.
---
Find out more about Logix Designer v31
If you would like to view the FactoryTalk View Site Edition 10.0 release notes, head over to Rockwell's Product Versions webpage and search on and then select FactoryTalk View.
Once all the versions are listed, click on the document icon as shown below: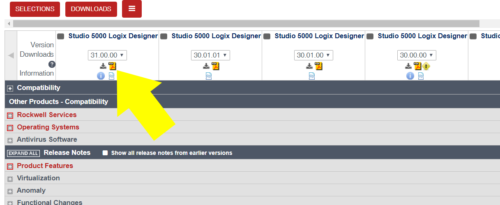 ---
If you'd like to listen to a discussion of the above, check out Episode 42 of The Automation Podcast below:
---
So, what do you think of the new features in Studio 5000 Logix Designer v31?
Will you jump in and install v31 right away because of the added features or hardware support?
You can share your thoughts and opinions by clicking on the "post a comment or question" link below.
Until next time, Peace ✌️ 
Shawn M Tierney
Technology Enthusiast & Content Creator
Have a question? Join my community of automation professionals and take part in the discussion! You'll also find my PLC, HMI, and SCADA courses at TheAutomationSchool.com.