I recently ran into an issue while installing some Studio 5000 back revs on one of my VMs.
UPDATED 05/16/22: Additional information added at end of article.
With version 23 specifically, I received the following error message on installation: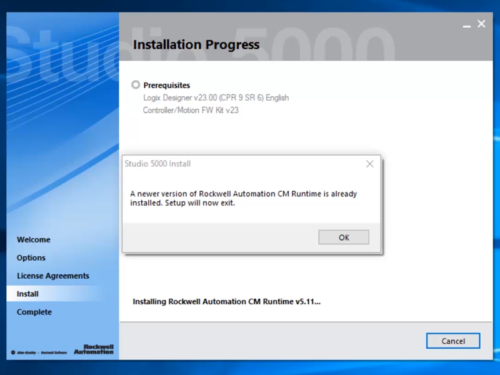 Unaware of any way to work around this issue, I ended the v23 installation, opened the Control Panel, and uninstalled the "Rockwell Automation CM Runtime" application:

After which I restarted the v23 installation, and it completed this time without issue: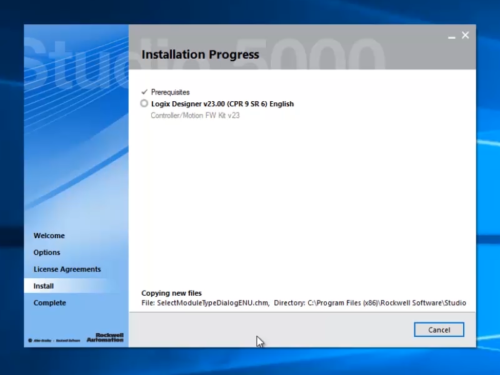 Back in the Control Panel, I found v23 installed version 5.11.0 of the CM Runtime:

Concerned that the older CM Runtime might cause issues with newer versions of Studio 5000, I attempted to create a new Studio 5000 project which resulted this the error, "Application requires CodeMeterAct Runtime Modules."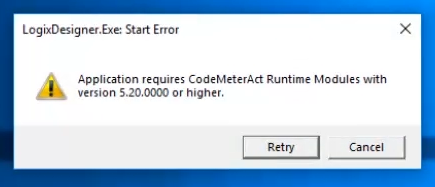 So I opened the installation files for the latest rev of Studio 5000 which I had available, found the CM Runtime installation file in the "Redist \ CodeMeter_5_21.3882″ folder," and ran it:

And after installing the latest CM Runtime, I was able to create new Studio 5000 projects again!

---
UPDATE: A reader recently wrote in to share the following:
"Hi Shawn,
I learned something the hard way with Rockwell, thru four hours between yesterday and today.
Same issue as you posted here, Logix5000 version 23 install failing due to existing newer Codemeter.
After uninstalling Codemeter from "Control Panel – Programs & Features," the problem persisted.
My laptop also has something called "Rockwell Automation CM Runtime," which is installed along with Logix5000 v33.  .
THIS was the culprit continuing to block my version 23 install.
We found it after the frontline tech at Rockwell brought in a guru from the product group.
Solution: After also uninstalling Rockwell Automation CM Runtime, version 23 installed fine. Of course we had to reinstall Codemeter from the version 33 fileset.
All seems good.  Cheers!"
Huge thanks to our reader (I have yet received permission to share his name) for writing in to share this tip!
---
To watch a video about the above, check out Episode 36 of The Automation Minute Season 4 below:
---
If you found this article helpful, please consider sharing it with your colleagues on LinkedIn, Facebook, Twitter or Goggle Plus.
And if you know anyone who would benefit from ControlLogix training, please let them know about my affordable courses over at TheAutomation School.
You can also share your own thoughts and opinions on this subject by clicking on the "post a comment or question" link below.
Until next time, Peace ✌️ 
Shawn M Tierney
Technology Enthusiast & Content Creator
Have a question? Join my community of automation professionals and take part in the discussion! You'll also find my PLC, HMI, and SCADA courses at TheAutomationSchool.com.
Latest posts by Shawn Tierney
(see all)