I recently ran into an issue while installing some Studio 5000 back revs on one of my VMs.
With version 23 specifically, I received the following error message on installation: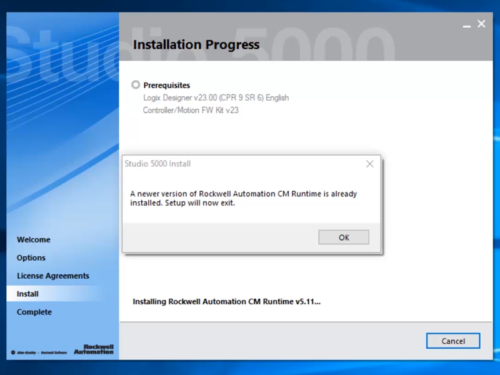 Unaware of any way to work around this issue, I ended the v23 installation, opened the Control Panel, and uninstalled the "Rockwell Automation CM Runtime" application:

After which I restarted the v23 installation, and it completed this time without issue: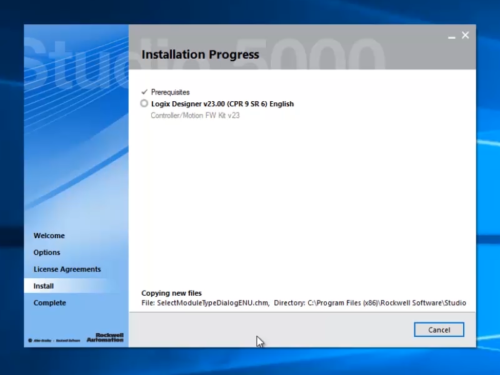 Back in the Control Panel, I found v23 installed version 5.11.0 of the CM Runtime:

Concerned that the older CM Runtime might cause issues with newer versions of Studio 5000, I attempted to create a new Studio 5000 project which resulted this the error, "Application requires CodeMeterAct Runtime Modules."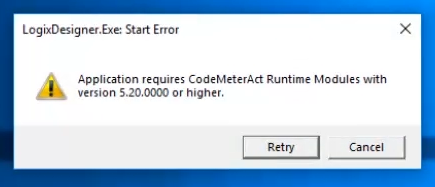 So I opened the installation files for the latest rev of Studio 5000 which I had available, found the CM Runtime installation file in the "Redist \ CodeMeter_5_21.3882″ folder," and ran it:

And after installing the latest CM Runtime, I was able to create new Studio 5000 projects again!

---
To watch a video about the above, check out Episode 36 of The Automation Minute Season 4 below:
---
If you found this article helpful, please consider sharing it with your colleagues on LinkedIn, Facebook, Twitter or Goggle Plus.
And if you know anyone who would benefit from ControlLogix training, please let them know about my affordable courses over at TheAutomation School.
You can also share your own thoughts and opinions on this subject by clicking on the "post a comment or question" link below.
Sincerely,
Shawn Tierney
Automation Instructor and Blogger

If you enjoyed my article, you may like my courses at TheAutomationSchool.com
Eliminate Ads and get Free Downloads by becoming a Patron here
Have a news tip? Share it with us here
Shawn began sharing automation news and know-how online in 1996 when he launched his first BBS. Then in 1999 he moved to the internet launching ShawnMichael.com, which he later renamed ShawnMTierney.com. In 2013 he moved his automation efforts to a new website, TheAutomationBlog.com, which has since become the most popular independent industrial automation blog on the web.
Latest posts by Shawn Tierney (see all)
Click HERE to scroll down to view or leave comments