Siemens expands its Advanced Controller and Redundancy Controller portfolios.
Two new Advanced Controllers have been added to the Simatic S7-1500 line, both of which combine standard, safety and motion control into a single device.
The 1515SP PC2 T CPU and fail-safe 1515SP PC2 TF CPU support motion control applications that require gearing and camming, as well as kinematics with up to four axes.
Example applications include Pick & Place, Cartesian Portal, Delta Pickers, and Scara robots.
To learn more about these two new controllers, check out Siemens press release here.
Siemens also added three new redundancy CPUs to the Simatic S7-1500 line.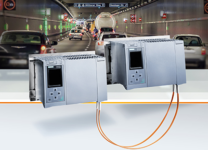 Targeting small to medium size redundancy projects are the CPU1513R and CPU1515R controllers.
And for larger applications, as well as those which need higher performance and faster switchover times, Siemens also released the CPU1517H controller.
All three redundant CPUs synchronize programs and data without any user intervention, and in the unlikely event that one of the CPUs fails, the back-up CPU automatically takes control of the process with no data loss.
Field devices that support S2 redundancy, like Siemens own Simatic ET 200SP distributed I/O system, are connected to these redundant CPUs via a Profinet ring.
To learn more about these three new redundancy controllers, check out Siemens press release here.
---
If you found this article helpful, please consider sharing it with your colleagues on LinkedIn, Facebook, Twitter or Goggle Plus.
And if you'd like to share your own comment or insights about these new products, you can do so by clicking on the "post a comment or question" link below.
Until next time, Peace ✌️ 
Shawn M Tierney
Technology Enthusiast & Content Creator
Have a question? Join my community of automation professionals and take part in the discussion! You'll also find my PLC, HMI, and SCADA courses at TheAutomationSchool.com.