In my first article on the Siemens Starter Kit, which includes the S7-1200 FailSafe CPU, I covered unboxing and contents, powering up the unit and loading the Simatic software.
The next step seems to be to get the software licensed, so we will move right in and get the software ready to be of use.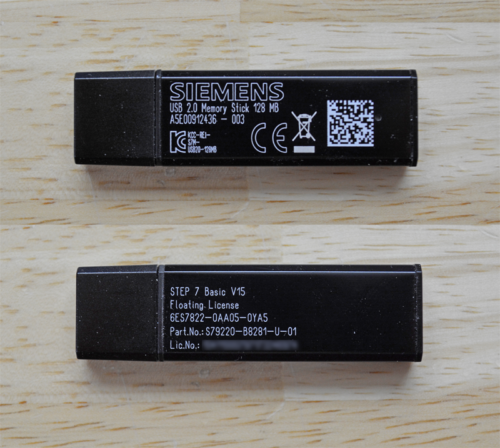 In the software disk box, you also receive a USB drive (similar to the above – ed.) with the license(s) that you will need to install on the machine that you installed the software.
I inserted the USB into my PC USB Slot and opened the Automation License Manager.
The Automation License Manager detects the license on the USB Drive. Now, I will show how to move the license to the PC.
License Shown Below on the USB: LICENSE_KEY: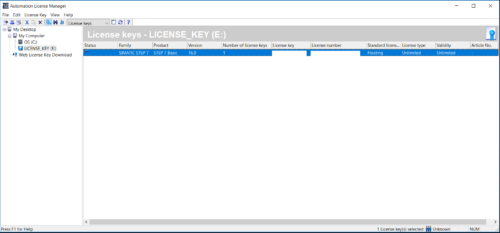 To Move the License
Step 1) Click on the License as shown below. Select: License Key>Transfer

Step 2) Change the Target Drive: to the OS (C) Drive as shown below. Click "OK"

 The License now displays on the OS ( C ) Drive and does not show up on the USB Drive.

The starter kit came with a Step 7 Basic License as well as a Step 7 Safety Basic License. I have now moved both to my PC hard drive.
I notice that there is also an option for a "Web License Key Download" that could be utilized if the programming station is connected to the internet.

Opening TIA Portal for the First Time:
I am now licensed and ready to open TIA Portal Version 16 for the first time.
The "Create New Project" window opens by default, and I create a project called "HOME" as my home automation project and click the "Create" Button.
I will plan to use this project in the articles ahead to see what can be accomplished.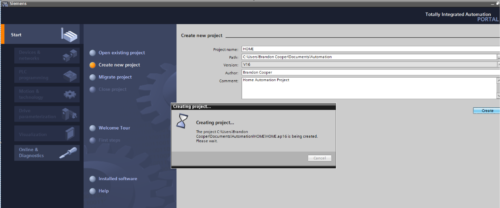 Conclusion
The Automation License Manager is straight forward and easy to use, and it should be.
It must be done, but it shouldn't be an IQ test or painful to get that part out of the way and get to what needs to be done to get your automation system up and running.
I am looking forward to exploring the TIA (Totally Integrated Automation) Portal Version 16 Software in the days ahead.
In the next step, I plan to establish communication with the S7-1200 and add it to my project.
Written by Brandon Cooper
Senior Controls Engineer and Freelance Writer
Have a question? Join our community of pros to take part in the discussion! You'll also find all of our automation courses at TheAutomationSchool.com.
Sponsor and Advertise: Get your product or service in front of our 75K followers while also supporting independent automation journalism by sponsoring or advertising with us! Learn more in our Media Guide here, or contact us using this form.