Article Updated November 2017: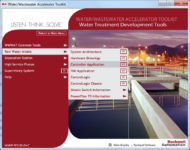 Rockwell's Water Waste Water Accelerator Toolkit (WWWAT for short) is designed to reduce engineering and development time around Water and Waste Water applications.

This "Accelerator Toolkit" is also designed for use with RSLogix5000 and FactoryTalk View Site Edition.

The initial download is roughly 510mb 560mb and is in the form of an ".exe" install file. Once downloaded and installed, a custom application is available to help you navigate the toolkit, but the files are also available in the install folder for direct access.

The initial down and installation of WWWAT provides you with the following resources:
Quick Start PDF
Process Objix – This appears to be a free subset of Rockwell's PlantPAx Process Objects and includes:

Control Modules (AOI's)
HMI Objects (ViewSE Faceplates)
Documentation on the above (PDFs)

Product Documentation, including:
Water Treatment Development tools, including:

Raw Water Intake
Separation Station
High Service Pumps

Waste Water Development tools, including:
Each of the above mentioned development tools include the following resources:
System Architecture layout in PDF and DWG
Process flow, Network layout, and PLC I/O layout in PDF and DWG
ControlLogix .ACD Program file
ViewStudio Site Edition Template .APA Application
Link to relevant product documentation
Rockwell's Water Waste Water Accelerator Toolkit is available completely free at the below url:
And more information about the WWWAT can be found here: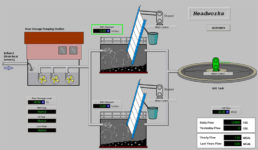 I hope the above information about Rockwell's Water / Waste Water Accelerator Toolkit is helpful.
If you've used Rockwell's WWWAT's before, or have a comment or question about it, please don't hesitate to leave them with us by using the "post a comment or question" link below.
Sincerely,
Shawn Tierney
Automation Instructor and Blogger

If you enjoyed my article, you may like my courses at TheAutomationSchool.com
Eliminate Ads and get Free Downloads by becoming a Patron here
Have a news tip? Share it with us here
Shawn began sharing automation news and know-how online in 1996 when he launched his first BBS. Then in 1999 he moved to the internet launching ShawnMichael.com, which he later renamed ShawnMTierney.com. In 2013 he moved his automation efforts to a new website, TheAutomationBlog.com, which has since become the most popular independent industrial automation blog on the web.
Latest posts by Shawn Tierney (see all)
Click HERE to scroll down to view or leave comments