UPDATE: Check out the new 2017 version of this procedure HERE.
I often get calls from clients who are looking for sample code, and most of the time I end up directing them to Rockwell's Sample Code Library Website.
This Rockwell website contains a library of hundreds of pieces of code for programmable controllers and HMI's. And it's a totally "free of charge" code sharing site.
Some of the code in the library is developed by Rockwell, while other samples are uploaded by users like you and I. If you have a peice of code you think others would find helpful. you are invited to upload it to the library as well.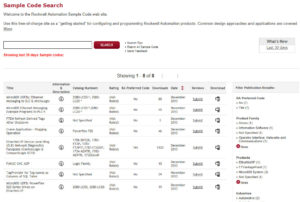 Using this library is as simple as searching the web. You just enter in a keyword or search phrase and press search. Then the results are returned, and will include the following information:
Title of the code
Information link
Catalog numbers the code is for
 User Rating
RA preferred
Number of downloads
Date uploaded
Download link
When you click on the download link you'll be prompted to accept a license agreement. Once you do, you'll be prompted to download a zip file of the sample code you chose.
Top Library Picks
Some of the library files I've found most helpful are:
ME and SE Faceplates:

These do not include the PlantPAx Process Objects – those are found in Rockwell's Knowledgebase and require a service contract to access.

ModbusTCP AOI for A-B Ethernet products which support "open sockets"
"Scale with Parameters" AOI for use in RSLogix 5000 Ladder Logic
Micro850 Ethernet Messaging Blocks to message from the Micro850 to SLC-500 and PLC-5 processors.
Rockwell's Sample Code Library website can be reached at the link below:
Rockwell has also published a short video (embedded below) explaining the site's purpose and how to use it:
I hope you've found the above information about Rockwell's Sample Code Library Website helpful.
If you have a favorite download from the library, or have a comment or question about it, please don't hesitate to leave us your comments by using the "post a comment or question" link below.
Until next time, Peace ✌️ 
Shawn M Tierney
Technology Enthusiast & Content Creator
Have a question? Join my community of automation professionals and take part in the discussion! You'll also find my PLC, HMI, and SCADA courses at TheAutomationSchool.com.
Latest posts by Shawn Tierney
(see all)