This week a lot of readers made use of our updated "submit a question" link to send us topics they'd like to see us cover, and today I'll share a few of them along with thoughts on how to resolve each.
Note: Readers can ask me questions directly at Automation.Locals.com, or submit them for consideration for coverage on the blog here.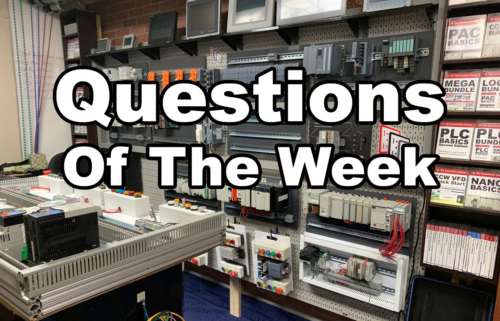 ---
Question:
I have a MICRO850 PLC and a PANELVIEW 7 STANDARD 10.4″. The problem is that when you download the program in the HMI, the message "the item is no longer available" appears and the values of any tag are not displayed.
However, when I simulate the screens on my PC and the MICRO850 PLC is in RUN if the values of all the tags are displayed.
So, is it possible for Micro850 to communicate with a PanelView Plus 7?
Rockwell typically does a good job walking users through how to connect their HMI's to their PLCs, and in the case of the PanelView Plus and Micro850 they've published quite a few tech notes on this topic, we I even covered it in an article here.
If you'd like to see the Rockwell Tech Notes, head over to www.AB.com, then click on Knowledgebase, and search on "PanelView Plus Micro850."
The first one I'd recommend reading is IN2129 – PanelView Plus 7 Communications to Allen-Bradley Controllers"
---
Question:
CCW for the Micro810 PLC, what is feature password? It might be a problem with my windows, but how to fix it?
The use of passwords in PLCs and Programming Software is a complicated subject, and honestly your question is very vague.
I suggest checking out two excellent documents which explain passwords in this PLC line in detail, which you'll find here and here.
Then if you still have questions on a specific password feature, you're welcome to submit it for us to consider covering in a future article.
---
Question:
We've used the Allen-Bradley E3 Plus Devicenet models for awhile, and now have added the E300 Devicenet electronic relays.
Problem is, I can't find any "add-on profiles" on the Rockwell website for the Devicenet units though. Am I looking in the wrong place?
While we don't have any E300 units in our inventory, I did just fire up Studio 5000 version 30 and found that the E300 was listed there as an item I could add to my Ethernet module.
I then searched the Rockwell Knowledgebase, and found an article with a direct link to AOPs (here) which listed several different AOPs for the E300.
With that in mind, I'd recommend trying to use the AOP for the E300 that's already in Studio 5000 if possible, but if it doesn't support your device, check out the list I linked to above.
---
Question:
Is there any tool or method to migrate a scada win cc from siemens to factorytalk view SE?
Rockwell includes migration tools in their software to migrate from old versions of their products to new versions (like from the PanelView Standard to PanelView Plus, as well as from the SLC-500 to ControlLogix.)
And in the past they have also used internal tools to help customers to migrate projects from competitor's HMIs and SCADA to their own. But to learn if Rockwell can help you with your specific request you'll need to reach out to your local Rockwell representative.
---
If you'd like to see our previous Q & A's, click here. And to submit a question for us to consider covering in a future blog, click here. And those readers who'd like to ask me questions directly, can do so here.