---
The 2105-2016 Lego League season is now over in Berkshire County.
And as it was my first year as a coach, I thought I would share the lessons I learned in today's article:
NEW: Check out the video version of the article here:
1) Start on time (or earlier)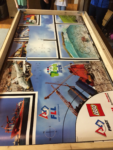 So this may seem a little obvious, but I didn't get to start as the team's coach until almost two months into the season.
With the competition now done, I feel confident our students would have made it to the finals if they would have had a couple more months to work.
And I think this is doubly true if your team is new, or has very few returning members from the previous season.
In our case, the school's forth through sixth grade team hadn't met in a couple of years, so we didn't have very many returning team members that already understood the competition.
2) Assembling the play field's mission kits is very time consuming (and needs to be done correctly!)
With nine students and dozens of Lego kits to assemble, I thought it would be best to divide up the kits and let different groups of students assemble them.
The problem with that plan was it took multiple meetings to get everything assembled, time which could've been better spent having the students trying to build and program robots to actually complete the missions.
So for next year, I hope to have a half day weekend launch event, inviting all the students who've signed up (and their parents) to come out and help build and test the mission models.
3) Print the mission model instructions in color and bind them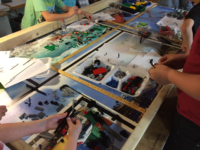 Such a little thing but not doing this turned out to be a big mistake.
First, the models can be confusing to build using only black and white instructions since Lego color codes many parts.
Second, the students inevitably mixed up the instruction pages, some of which were fifty or more pages, and that made trying to find where the student had taken a wrong turn a very frustrating experience.
And don't think for a moment once these kits are built they'll never come apart either, so having quick access to the instructions later I the season can be very helpful!
At this point I should also note the importance of checking and testing what the students built before allowing them to move on to the next kit. In all honestly, some of our more complicated mission models just never worked correctly.
4) Plan exercises for the students prior to first meeting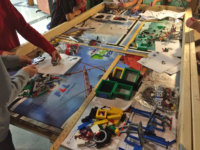 Being self-employed and working six days a week doesn't leave me a lot free time.
However, before starting next year's season I'll be putting together some basic lessons, especially for students new to our team.
The way I look at it, every student on the team should be involved in building and programming.
As far as building, I want each student to be able to create a simple "pusher", "claw arm," and "one way door."
I also believe each student should know how to assemble a simple chassis for the robot, as well as write a program to make the robot consistently travel out from the starting point and back.
5) Insure the free Mindstorm software is installed and running prior to first meeting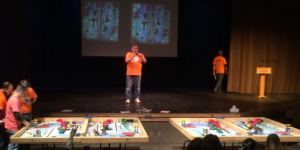 You'll want to insure the computers you are using already have the software installed and running before your first meeting.
While Lego makes the Mindstorm software available for free, it's a large download that stressed the school's network, and I eventually packed the PCs up and downloaded and installed the software at home.
6) Set the weekly meeting length to match how long the students can stay engaged
Because of our late start, we set our meeting duration longer than what we probably would have otherwise.
But since our meetings were held right after school, we found that after spending all day in the classroom our students were limited in how long they could concentrate before they just needed to go out and play.
So I recommend keeping that in mind when scheduling the length of your team's meetings.
7) The larger the team, the more robots you may want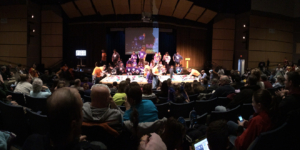 With nine students and two robots, we really struggled to assign enough tasks to keep everyone busy.
Adding a third robot mid season helped quite a bit, but assigning three students per robot always seems to leave one student out of the mix.
8) Guide the students on which missions to complete first
Focus is a beautiful thing, and while many students wanted to focus on the most difficult mission, things went much better once they were focused on completing the missions from least to most complex.
9) Consider only two students can take part in each match
Note: I believe all leagues follow these rules, but you may want to check your local rules to be sure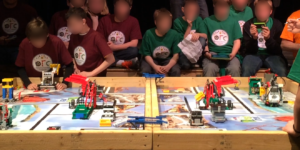 In the Berkshires Robotic Challenge, each team gets three chances to compete in a two and a half minute session to score as many points as possible by completing missions on the playfield with their robots.
And during each of the three sessions, only two students can enter the mission area and compete. After all three of the rounds are completed, the teams top two scores are added together as their final score.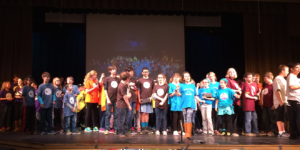 What this means is, any team with more than six students will not be able to have all students participate in matches, and knowing this before the season begins can be very helpful.
Note: I noticed some teams adopted a "varsity" and "junior varsity" mentality when assigning team members to positions as either "competitors" or "backup/support."
10) Have fun!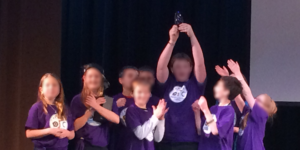 Sometimes trying to solve technical challenges can be frustrating, as most of us experience every week at work.
That said, I would recommend as coach you make a continuous effort to remind your team that while learning and scoring is important, the most important part of being part of a First Lego League team is to have fun while you do it!
So what do you think of my list? Have you coached a Lego League team before, and can you share some of your own insights?
If you have your own suggestions, or even questions, please feel free to leave them here by submitting the "post a comment or question" link below.
Until next time, Peace ✌️ 
Shawn M Tierney
Technology Enthusiast & Content Creator
Have a question? Join my community of automation professionals and take part in the discussion! You'll also find my PLC, HMI, and SCADA courses at TheAutomationSchool.com.
Latest posts by Shawn Tierney
(see all)