---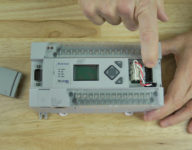 The MicroLogix 1400's base I/O can be expanded using 1762  I/O modules. In this article we'll describe the details of how this is accomplished.
The right front of the MicroLogix 1400 has a small cover over top of a 1762 I/0 expansion port, and the first step in adding 1762 I/O to a MicroLogix 1400 is to power down the unit, and remove the cover.
Next, you'll find that your 1762 expansion I/O modules come with a ribbon cable and connector on the left side. Also on the front right of the expansion module you'll find another small cover over the top of an additional expansion I/O port.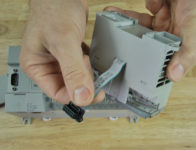 To install your 1762 expansion module, simply plug the ribbon cable connector into the MicroLogix 1400's expansion I/O connector and replace the cover. Then, to connect additional 1762 expansion I/O modules, remove the expansion cover from the first module and plug the second module into it, replacing the cover when done.
Repeat this process until you have installed all your 1762 expansion modules, or have reached the power limit of the MicroLogix 1400's expansion bus.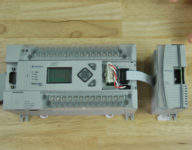 To simplify the selection of expansion modules, Rockwell designed the MicroLogix 1400 to accept up to any seven 1762 I/O modules. This is three more than the MicroLogix 1100, and different from the MicroLogix 1200 which supports 3 and 6 modules based on their current draw.
Well, that's it for today's article about MicroLogix 1400 expansion I/O. For more information on the installation of MicroLogix 1400 expansion I/O, see the manufacturer's installation instructions HERE.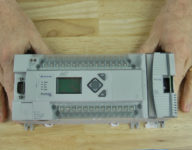 And if you've have any comments, questions, or corrections, please feel free to fill out the "post a comment or question" for at the bottom of the page.
Until next time, Peace ✌️ 
Shawn M Tierney
Technology Enthusiast & Content Creator
Have a question? Join my community of automation professionals and take part in the discussion! You'll also find my PLC, HMI, and SCADA courses at TheAutomationSchool.com.
Latest posts by Shawn Tierney
(see all)