---
This morning I was very fortunate to join members of the mainstream industrial automation media at Rockwell Automation's Automation Perspectives session.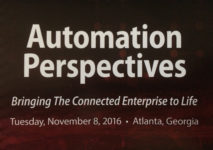 Never having attended one of these events before, I didn't quite know what to expect, and I have to say I did feel a little under-dressed surrounded by so many executives in suits! (I never thought the media was so well dressed!)
That aside, as the event starts off with breakfast I did get a chance to sit down and talk to some interesting and friendly vendors, analysts, and media over coffee, eggs and bacon.
Once the tunes chimed to let us know it was time to move into the presentation room, I grabbed another coffee (no surprise, right?) and then grabbed a seat in the very, very back of the room so my bright blue polo wouldn't standout in the middle of a sea of mostly black suits.

Introduction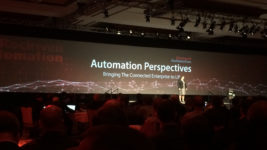 The Automation Perspectives session was kicked off by Ninveh Neuman,  Vice President of Global Commercial Marketing for Rockwell Automation.
She welcomed us to the event, covered some basics, and then quickly introduced the first speaker.
Rockwell Automation's Vision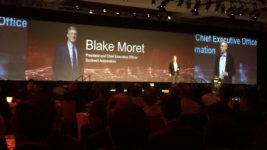 This first presentation was made by Blake Moret, President and CEO of Rockwell Automation.
Now if you've heard executives talk in the past you might think Blake's talk was going to be dull and boring, but instead it was quite interesting.
He covered lot of ground in his talk, including that Rockwell's vision of the "Connected Enterprise" is one in which Rockwell helps customers
leverage technology to produce more products faster with higher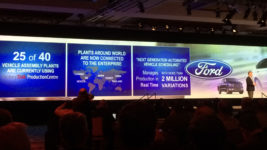 quality and less cost.
He also talked about several examples including Rockwell's own manufacturing as well as customers like Ford Motor Company.
He even discussed the challenge of educating the workforce, and used that topic to announce a huge donation or hardware and
volunteering Rockwell is making to the FIRST organization,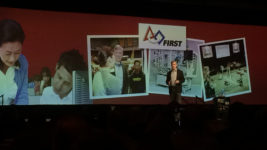 something I was happy to see as a First Lego League Coach (although I'm guessing this donation is aimed at the high school level?)
Capturing Value
Next up was Bob Sternfels of McKinsey & Company.
In his talk he discussed the Industrial Internet of things (IIoT) and the challenges of the next industrial revolution (among many other things.)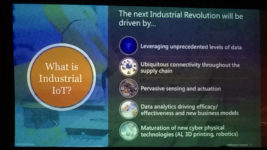 I found his presentation not only very interesting but also a wealth of information and insight, especially when he was discussing the challenges of manufacturing today with the unprecedented levels of data available in modern control systems.
Connecting Information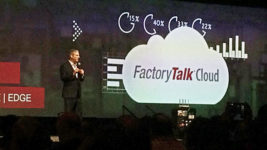 From there we next heard from John Genovesi about Rockwell's cloud initiative which works in conjunction with FactoryTalk Production Centre.
His presentation began with a lot of interesting points about the number of devices connected to the internet, etc.
The presentation then went on to discuss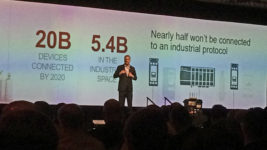 such topics as aggregating production information from multiple areas and facilities to improve overall utilization and manage risk.
Intelligence Driven
I was really looking forward to the next talk by Fran Wlodarczk as it had to do with Rockwell's Integrated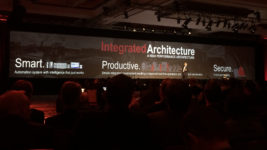 Architecture.
Unfortunately (or understandably given the audience) it felt more like an overview of their existing tech than a presentation with a vision of the future.
Security Panel and Connected Services
I believe if you're a plant manager or owner, or writing an article targeting those folks, these two sessions would have been quite interesting. Not so much for hands-on folks like myself.
Mobile Demo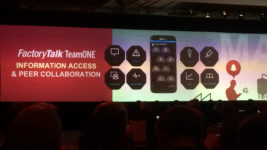 That brings us to the last major section of this half day session which was presented by Frank Kulaszewicz, Mike Pantaleano, and Kyle Reissner.
In it, they gave a very well thought out demonstration of how they can take raw data from smart plant floor devices and turn it into insightful information.
To help us understand their goal, they used the example of the modern fitness tracker like the FitBit.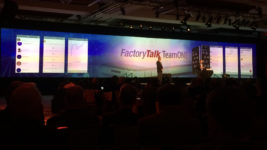 The point was that fitness companies don't present us with spreadsheets full of raw data or trend charts, but instead provide us with dashboards full of clear and meaningful information.
With that said, they then went on to show demonstrate their new free app, FactoryTalk TeamONE, could help accomplish a similar feat on the plant floor.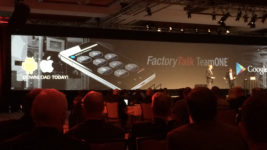 In the demo they shared information about a machine status and speed, as well as alarms and other information.
And they did it using familiar mobile notifications and messaging mechanics that most of us are very use to using in today's world of smart phones and tablets.
They even had a little fun with the system like many us of did when we first used Siri, Alexa, or Cortana, as you can see in the below short clip I captured on my iPhone:
Once their excellent demo was done, Ninveh Neuman came back on stage to close out the session, announce where next year's Automation Fair will be held (Houston,) and to invite all of the attendees to a complimentary lunch.
Final Thoughts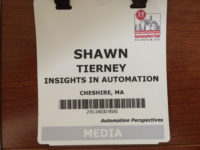 Overall, I have to say I'm very glad I flew down a day early to attend Rockwell's "Automation Perspectives" session.
It was definitely a very well rehearsed and executed session packed with interesting an informative speakers, and I want to again mention how much I enjoyed the mobile demo at the end of the session.
That said, if I ever attend this session again I'm definitely going to exchange my blue polo for a dark suit jacket 🙂
Until next time, Peace ✌️ 
Shawn M Tierney
Technology Enthusiast & Content Creator
Have a question? Join my community of automation professionals and take part in the discussion! You'll also find my PLC, HMI, and SCADA courses at TheAutomationSchool.com.
Latest posts by Shawn Tierney
(see all)