In part four of this series we will look at modern control systems from both their beginnings, as well as, the progress to what they are capable of at present day.
Today's engineer can typically work on multiple systems on any given day that could have been installed in the last month, a decade ago, or even thirty years ago.
With this wide band of technology, many companies face skill gaps in their workforce. It is advantageous for all of us to learn older technologies, stay current in our skills and be learning the skills we will need in the next decade.
---
1970's
In 1975, Honeywell released their TDC 2000 DCS (Distributed Control System),  Yokagawa the CENTUM system and  Bristol released the UCS 3000 system.
Over the next few years, companies like Valmet, Bailey and Fischer & Porter would join the venture into DCS systems as well. (Ref-1)
The TDC 2000 in-particular had a configuration where a controller would control up to eight control loops (inputs and outputs) on one controller board. The controller board was connected to a Data Highway and the data was made available to a process computer.
Operators could then read process data and write data such as setpoints and outputs to the controllers. This allowed operations to monitor and tune many control loops in a single system. Early highway communications were made available on coaxial cable networks.
(several major manufacturers also released PLCs during the 1970's, including Modicon, Allen-Bradley, GE – ed.)
1980's
Improvements were being made to coaxial networks including the Token-Ring technologies as well as the introduction of Ethernet communications that initially used coax and competition between the networks ensued for most of the decade and ended with Ethernet technologies taking over the preferred communications protocol.
Ethernet became even more prevalent as the move was made from coax to twisted pair cable around 1990. (Ref-2) Some notable releases in control systems were the TDC 3000 by Honeywell in 1985 and PLC-5 by Allen Bradley in 1986.
Protocols such as RS-232 and Data Highway made it possible for DCS systems to talk to PLC's as well.
Control Rooms began to change from bench board type controls to computer displays and many times, operations had to use a mixture of the different control types.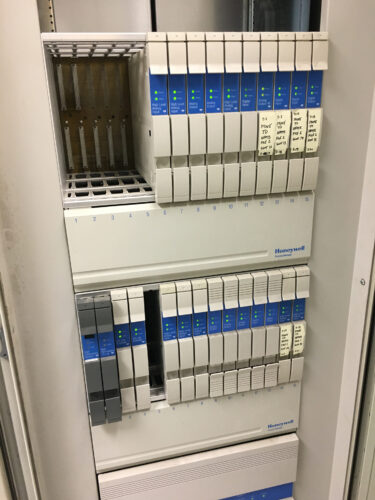 3000IO – Image by Brandon Cooper
1990's
With the rapid increase in Ethernet capabilities, higher speeds such as 10 Megabit, network switching devices and the adoption of the personal computer, many kinds of different types of communication protocols were made available that allowed communication between different types of systems.
Virtually all vendors began releasing the HMI/SCADA (Human Machine Interface/Supervisory Control and Data Acquisition) Software that would allow operations to interact with their control systems.
By the end of the 90's, systems were becoming more "open" to use protocols such as OPC to communicate with each other. Architectures such as client/server started to become a reality and were widely adopted in the early 2000's.

2000's
Honeywell begins to move away from the TDC 3000 to their open system "Experion" and companies like Rockwell are moving from the PLC-5 to their "ControlLogix" platform.
Servers and workstations are getting faster and more capable, Ethernet speeds are moving from 10 Megabit to 100 Megabit and even 1 Gigabit.
With the open technologies such as Microsoft Windows, security becomes an issue with these systems.
Instead of engineers needing mostly an electrical or instrumentation background, the networking/IT skillset really starts to be of necessity in the control systems world.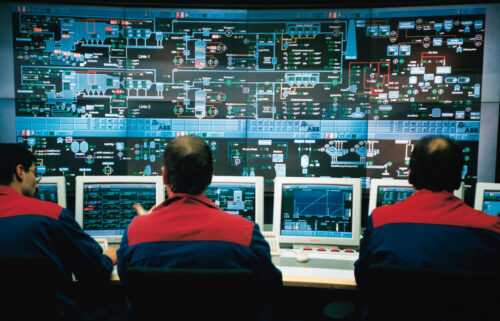 Attribute: By Steag, Germany – Steag, Germany, CC BY-SA 3.0
2010's
In the last ten years, it is more of the same, smaller and faster, more storage, more speed.
Ethernet capabilities have increased to 10 Gigabit, 100 Gigabit and even 400 Gigabit speeds.
Virtualization technologies have become a normal part of control systems and a steady move in that direction is taking place and will be discussed further in part five of this series.
Conclusion:
You may have started working in the days when Data Highway networks were the normal communication method in control systems, or started like I did at the turn of the century when 100 Megabit Ethernet networks and Server/Client configurations were the normal.
Or maybe you started last year and installed a virtualized controller or server for your first project.
Whatever the stage, there is plenty to learn to maintain the legacy systems and push forward for the next chapter.
Written by Brandon Cooper
Senior Controls Engineer and Freelance Writer
Have a question? Join our community of pros to take part in the discussion! You'll also find all of our automation courses at TheAutomationSchool.com.
Sponsor and Advertise: Get your product or service in front of our 75K followers while also supporting independent automation journalism by sponsoring or advertising with us! Learn more in our Media Guide here, or contact us using this form.
Latest posts by Brandon Cooper
(see all)

References: