---
So you've updated Rockwell's Integrated Architecture Builder to gain access to new devices like the 5580 and 5380 Controllers.
Then later you realize you can no longer create projects with older controllers like the ControlLogix 5560, CompactLogix L23 and L3x, and the PLC-5.
Fortunately, the good folks over at Rockwell provide a means to launch an older version of the software for just those occasions.
To access it, from within the current version of IAB select File, and then select "Launch previous IAB version":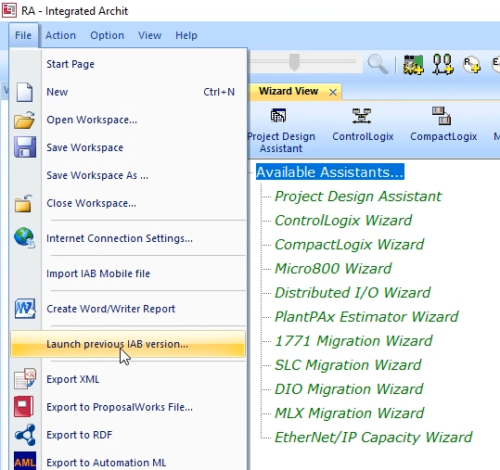 Once the previous version launches, you'll have the ability to create new workspaces with those legacy controllers.
For the ControlLogix line, that provides access to the 5560 Family:
For the CompactLogix, it provides access to the L3x and L23 lines:
And you also have the ability to create PLC-5 workspaces:
---
To watch a video of the above, check out Episode 51 of The Automation Minute Season Four below:
---
If you found this article helpful, please consider sharing it with your colleagues and on social media.
And if you'd like to post a comment or question on the above, just click on the "Click HERE to post a comment or question" link below.
Until next time, Peace ✌️ 
Shawn M Tierney
Technology Enthusiast & Content Creator
Have a question? Join my community of automation professionals and take part in the discussion! You'll also find my PLC, HMI, and SCADA courses at TheAutomationSchool.com.
If you found this content helpful, consider buying me a coffee here.
Latest posts by Shawn Tierney
(see all)
December 5 News: 50kg Robot, Ex Tablet, IOLink, Ethernet-APL, MQTT QOS, Logix/View Docs & more (N150)

- December 5, 2023

November 30 News: TIA Portal v19, Productivity Suite 4.1, Industrial Strip Light, OPC Pub/Sub & more (N149)

- November 30, 2023

MOXA's New Industrial Computers (P181)

- November 29, 2023