One of the topics I like to cover in my training courses is how users can get (and use) free sample code, programs, and AOIs made available by Rockwell Automation.
That said, since Rockwell made major changes to their website recently I thought it made sense to update this article showing how you go about getting those free downloads:
---
1) To start, navigate your browser to http://www.ab.com:

2) Next, under "Downloads" select "Sample Code":

3) Here you will see a search box where you can search for sample code:

Now that we're here, let me point out some of my favorite downloads.
4) The first is actually a series of free programs for the MicroLogix which you can find by searching on "blocks":

In the results above, the first item listed is the "Simple Motor Control" building block which is well worth checking out.
5) Some other great downloads are free AOIs for RSLogix and Studio 5000. To find them search on "aoi":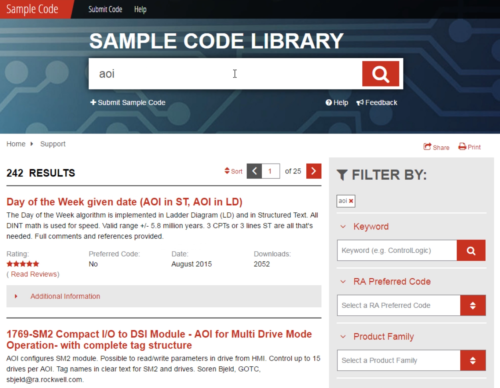 6) Towards the bottom of these results you'll find the "SCP" AOI, a great little piece of code for those who only have access to the Ladder Diagram language and need to scale raw values to engineering units without a lot of fuss: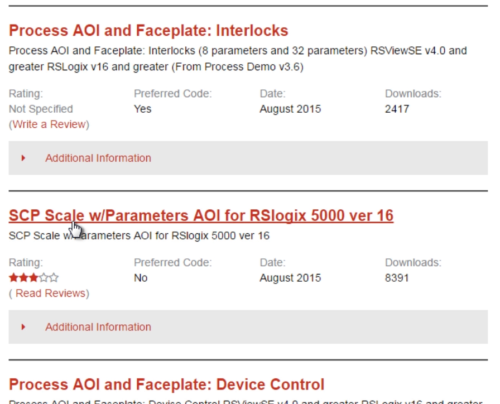 If you've found this article helpful and would like to watch the video version, check out the below episode of The Automation Minute:
Sincerely,
Shawn Tierney
Automation Instructor and Blogger (post views: 2,934 views)
Enjoy the benefits of membership! Patreon.com/automation
Check out my affordable courses: TheAutomationSchool.com
Ask me questions by clicking here to go to the comments link
Have an industrial automation news tip? Share it with us here
Latest posts by Shawn Tierney
(see all)
Click HERE to scroll down to view or leave comments