---
As a follow-up to that post, in today's article we'll take a look at five things you should consider before migrating from the 1756-L6x to the 1756-L7x ControlLogix processors.
Five questions to ask before migrating from the L6x to L7x ControlLogix:
1) Do you need a serial port?
The DB9 serial port built into the front of the 1756-L6x (556x) comes with support for ASCII, DH-485 and four variants of DF1.
The 1756-L7x (557x) however doesn't come with a serial port at all. Instead, it has a USB port used for programming and loading firmware.
While there are many advantages to the newer model's USB port, if you need a DB9 serial port the cleanest option may be to stay with the L6x.
2) Have you standardized on a pre-v20 version of RSLogix 5000?
The 1756-L61, 62, and 63 series B processors support firmware versions 12 through 20. The 1756-L64 series B supports 16-20, and the 1756-L65 series B supports 17-20.
The 1756-L71 series B on the other hand only supports v20 and up, while the L72-L75 series B supports v19 and up.
So if you've currently standardized on the L6x family with either version 17 or 18, you'll have to make a conscious decision to add v20 if you want the option of using all of the current 1756-L7x processors.
3) Have you standardized on CompactFlash?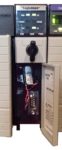 If all the products in your system currently use CompactFlash memory cards, then the L6x has you covered as it comes with a CompactFlash slot (card sold separately.)
The L7x on the other hand comes with an SD Card slot and a 1GB industrial grade SD card.
So while you can't use CompactFlash cards with the L7x, this shouldn't be a big issue since each L7x processor comes with an SD memory card.
4) Do you require installed base and spare parts commonality?
If you already have several L6x processors in your facility, and already have spares of these processors in your store room, it may make sense to continue using them for the next year or two to maintain commonality of your installed base and store room spares.
However, if you're not required to have a D9 serial port, or CompactFlash memory, and you can use v20 of RSLogix 5000 in your facility, then moving to the new L7x ControlLogix is definitely worth pursuing.
5) How will you support your L6x after 2016?s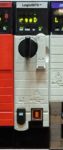 On Rockwell's lifecycle status page, www.ab.com/silver, the 1756-L6x series is listed as "end of life" with a discontinued date of "12/31/2016."
This means that manufacturing of the 1756-L6x line of processors will end on that date.
That doesn't mean Rockwell won't repair, exchange, or support these units into 2017 and beyond. I've experience first hand Rockwell's legendary support of legacy products countless times.
What it does mean is, if you have a plant full of 1756-L6x processors, you'll want to prepare a plan for supporting them past the end date of manufacturing.
This could include stocking spare L6x processors, or investigating the feasibility of migrating key systems to the L7x line.
---
I hope you've found the above "five things you should consider before migrating from the L6x to the L7x processors" helpful.
If you have any comments, questions, corrections or suggestions, please feel free to share them with us by submitting the "post a comment or question" link below.
Until next time, Peace ✌️ 
Shawn M Tierney
Technology Enthusiast & Content Creator
Have a question? Join my community of automation professionals and take part in the discussion! You'll also find my PLC, HMI, and SCADA courses at TheAutomationSchool.com.
Latest posts by Shawn Tierney
(see all)