If you have had ControlLogix systems running in your facility for any amount of time, chances are they contain ControlNet communication modules for the communication between processor chassis and their controlled remote I/O chassis as well as a myriad of other uses.
Being a deterministic, as well as a stable network, ControlNet was the primary method of communications between ControlLogix processors for produced/consumed tags as well as being the primary method of communications to a remote I/O chassis.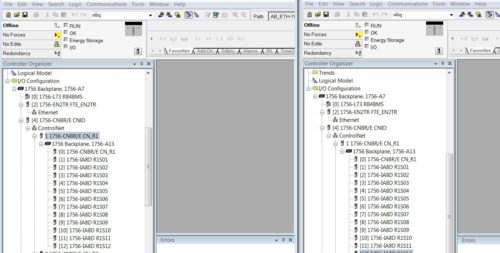 Along with these uses, ControlNet has many other uses including specialty communications such as a 1770-KFC15 where ControlNet to Serial communications are achieved for system integration into legacy systems.
However robust it was, slowly but surely, ControlNet for remote I/O communications is being replaced with EtherNet communication.
Rockwell has incorporated their DLR (Device Level Ring) topology into remote I/O communication networks.
If you are contemplating changing the communication to your remote I/O chassis from ControlNet to EtherNet, this article could be helpful for you.
Getting Started:
Step 1) I recommend making one or more backups of your PLC program
Make two copies of the program to work with. One with name ending in CNET and one ending in ENET for clarity.
Step 2) Open the programs side by side on your programming terminal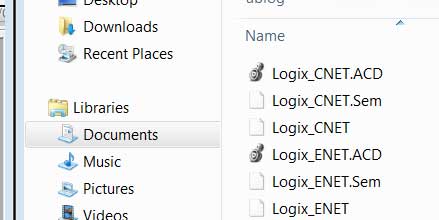 Note: It is very important to make note of the names of your CNET Modules. You must rename the new ENET Modules with the same name for tag alias and names to converge when completed.

Step 3) Both Copies of the program are open, so you are ready to begin. Start by deleting all the I/O Modules and ControlNet Modules in the Project that ends with ENET.ACD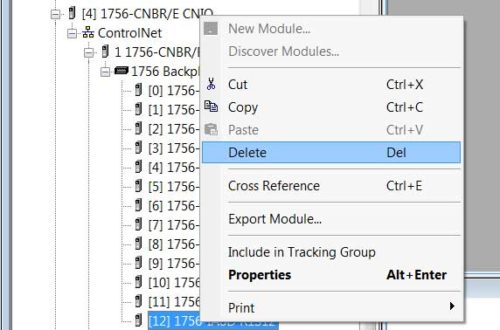 Below all ControlNet Modules and remote I/O Modules are now deleted.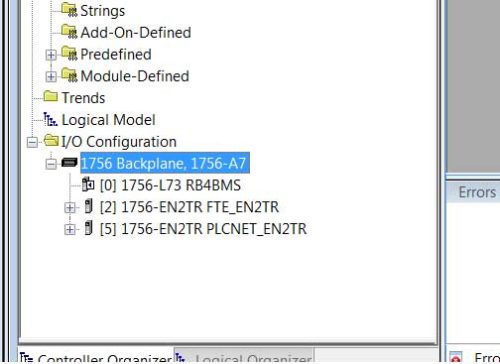 Step 4) Begin adding an EtherNet Module in the local chassis and one for each remote chassis. This is where it is very important to name the EtherNet Modules with the same name that the ControlNet Modules had.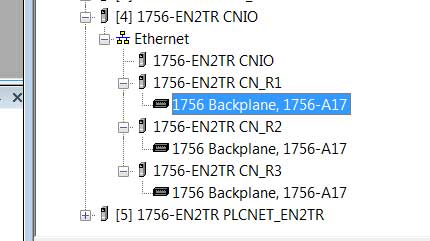 Step 5) Drag and Drop each I/O Module from the project ending in CNET to the project ending in ENET in the correct chassis.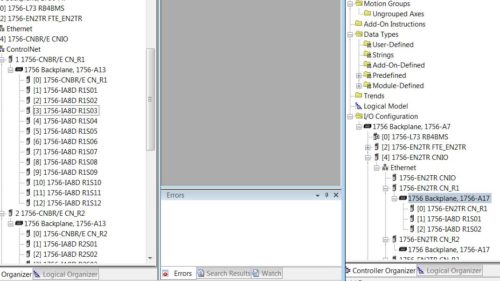 You now have all EtherNet communications modules in your remote I/O chassis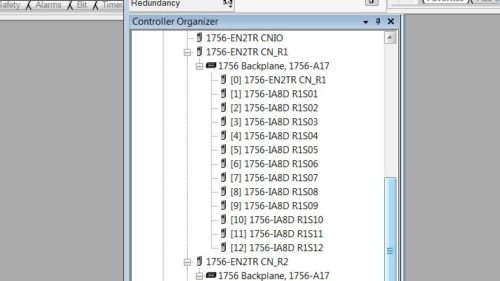 Step 6) Run the "Verify Controller" command to ensure the I/O assignments, tag aliases and all other information is correct.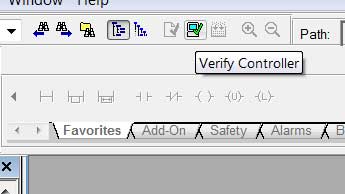 For more on this topic, see Rockwell's Tech Note 1092818 (or Publication CNET-RM001 – ed.)
Conclusion:
As you begin upgrading existing ControlLogix systems that contain ControlNet communication modules to EtherNet communication modules for remote I/O, preparation and attention to detail will be the factors for success.
Make plenty of backups, note the module names and stick to the procedure. Be sure to reference the Tech Note listed above for additional information.
This entire procedure can be completed and your system can be cut over to EtherNet communication in less than a half hour.
My best to you in your control system upgrades.
Written by Brandon Cooper
Senior Controls Engineer and Freelance Writer
Have a question? Join our community of pros to take part in the discussion! You'll also find all of our automation courses at TheAutomationSchool.com.
Sponsor and Advertise: Get your product or service in front of our 75K followers while also supporting independent automation journalism by sponsoring or advertising with us! Learn more in our Media Guide here, or contact us using this form.