Welcome to part two of the nine part series detailing my picks for the top new PLC and HMI products shown at Rockwell's Automation Fair 2017.
Note: While this series covers the products in which I'm most interested, you'll find all the new products listed in Rockwell's guide HERE.
The New Studio 5000: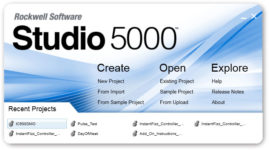 Due out this month, Rockwell's releasing an updated user interface for Studio 5000 to provide what they say will be a common look across all Studio 5000 applications.
While I was unable to find pictures of the redesign online, and no new release of Studio 5000 were available earlier this week, Rockwell states this "soon to be released" version of Studio 5000 Logix Designer has improved workflows when used with multi-monitors, as well as improved tabbed views.
In addition, Rockwell stated that they have updated several of Logix Designer's programming languages to optimize programming time, which I'm interpreting to mean less clicks and more efficient programming.
Moving on to View Designer, it is said to now include native Data Logging and Trending, something I think its needed for awhile as most other modern HMIs have had those features.
View Designer is also said to be getting an "Emulation Mode," which I hope is similar to what's been available in ViewStudio since it launched (and was in RSView before it.)
Studio 5000 Architect gets new "AutomationML" capabilities for bidirectional exchange of data between engineering tools and Studio 5000.
And finally, the Studio 5000 Application Code Manager is said to have had a "Class View" added to allow for viewing library content which crosses Logix content.
So what do you think?
Will you consider the above product, or does it not have a place in your facility?
Please feel free to share your thoughts with us by clicking on the "post a comment or question" link below.
Until next time, Peace ✌️ 
Shawn M Tierney
Technology Enthusiast & Content Creator
Have a question? Join my community of automation professionals and take part in the discussion! You'll also find my PLC, HMI, and SCADA courses at TheAutomationSchool.com.
If you found this content helpful, consider buying me a coffee here.
Latest posts by Shawn Tierney
(see all)
December 7 News: ABB, Sparkplug, Cybersecurity, Robots, Cobots, Omlox, Ethernet/IP & more (N151)

- December 7, 2023

Auvesy-MDT Octoplant: Automated Backups, Disaster Recovery, and More (P182)

- December 6, 2023